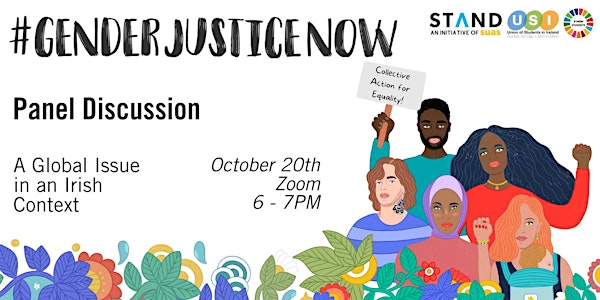 #GenderJusticeNow Panel Discussion
Join the #GenderJusticeNow Panel Discussion to hear from experts and activists on Irish efforts that contribute to global gender justice.
About this event
This Autumn, the 10,000 Students Campaign, our joint awareness raising initiative in partnership with USI, supports the STAND Student Festival & exhibition.
We are celebrating collective actions that contribute to local and global gender equality. You can check out what we're up to on campuses and beyond by following our social media accounts and subscribing to our STAND Newsletter.
This panel discussion will dig deeper into issues related to global gender justice currently being addressed in Ireland.
Hear from organisations paving the way for us all to think and act differently about gender. Each panelist will share what 'gender justice' means to them, how they see the current state of gender justice in Ireland, what work is being done to make progress, and how this all fits into the global fight for gender equality.
The panel will be moderated by Ross Boyd, USI's VP of Campaigns, and will feature representatives from:
Amnesty International
Disabled Women Ireland
Trans Equality Network Ireland
If you have any questions about the event, contact Aislin Lavin at aislin@stand.ie
We can't wait to see you there!