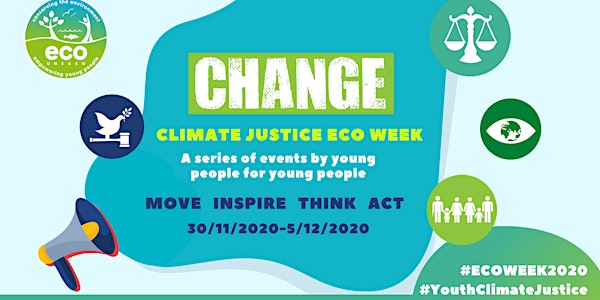 Get creative with the change – Meet the creatives.
Get creative with the change – Meet the creatives.
About this event
Leave your inner critic at the door as we dive into how poetry, imagery and movement can be used as a vehicle for social and environmental change. We will be exploring examples of how change is not just brought about by academics, but by artists and activists too.
At the end of the hour you'll be armed with some creative tools that aid you on both your personal expression and activist journey. No previous experience or knowledge necessary.
Speaker: Molly Sterling
This is just one of a series of eco week events. See our timetable below:
• Monday 30th November 6.00 pm
Why Change? - How to talk about Climate Justice.
Learn how to communicate about Climate Justice with your friends and family. Tips and tricks on how to communicate without losing the plot or your temper!
• Tuesday 1st December 6.00 pm
Who's the change? – Meet the activists. Standing up today for a better tomorrow.
Join a panel of Climate Justice activists to learn how they are using their voices to stand up, be counted and create change.
• Wednesday 2nd December 6.00 pm
How to change – Meet the politicians. How to advocate for policy change.
Politics and policies can be daunting no doubt. Luckily we have the experts on hand to show us how to unravel the dialogue and navigate our way to create change at a political level. Speakers: Ed Davitt. Rebecca Moynihan. Francis Noel Duffy
• Thursday 3rd December 6.00 pm
Get creative with the change – Meet the creatives.
Clean out your vocal cords and grab your creative caps. An interactive workshop to show how you can channel your creativity and use it as a vehicle to create change. Molly Sterling. Zine.
• Friday 4th December
Take a break from the change.
As changemakers we all need time out. Today is about you and your wellbeing. We invite you to shake the worries of the week away with 'Go Dance For Change' wellbeing workshop. Then spend your evening resting, recouping and being kind to yourself. Dance For Change.
• Saturday 5th December 4.30pm- 6.00
I am the change. Showcase and award ceremony.
Join us in a celebration and showcase of our youth climate justice challenge projects. This is an open event for young people to learn from other young people and get inspired by their project ideas.