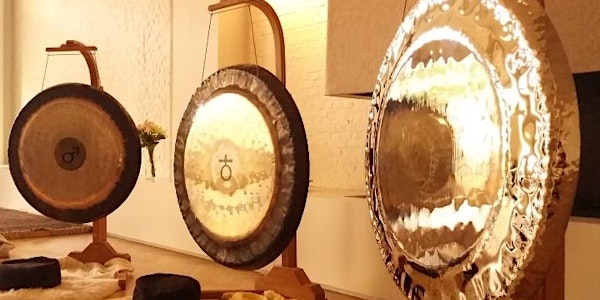 GONG BATH | YOGA NIDRA | REIKI
Sound Bath with Yoga Nidra and Reiki Monthly Sound Baths with Yoga Nidra & Reiki to release deeply held stress & restore health.
When and where
Location
Sextons House Community Hub Church Lane Manorhamilton Ireland
About this event
DECEMBER GONG BATH :: MOON TRINE JUPITER
The moon in Cancer is in her domicile (favorite place), in trine (harmonius aspect) to Jupiter (bringer of gifts) in the last degree of Pisces (endings, full circle,release, emptying). 29 Pisces is the very last degree in the zodiac.
Take time to pause and reflect on this powerful cosmic impulse of harmony and where it is evident in your life right now. It's a time both for peaceful endings to completed endeavours and creative visioning for new ventures.
quieten your mind,
release layers of stress,
enter a deep state of relaxation,
heal on multiple levels,
restore vitality
Align yourself through sound with the prevailing macro planetary rhythms calling us to pause and reflect upon their meaning.
Sunday Dec 11th
6.30 - 7.30pm
Sextons Community Hub
Manorhamilton
Leitrim.
Due to the cold weather, this event will be 1 hour in length.
RSVP by Text
089 2225198
or
BOOK DIRECT
Transfer €20 via Revolut
 to
https://revolut.me/sorchasorcha
089 2225198
Bring your own yoga mat to lie on, blankets to cover you and pillows to support your knees, back and /or neck. A sleep eye mask is optional but does enhance the experience.
If you don't have a yoga mat, a camping mat will do, or a sheepskin.
-------------------------------------------------------------------------------------------
For further reading see below:
What is a Gong Bath ?
The gong experience is deeply relaxing. The depth, breadth and diversity of sounds that this instrument creates is unlike anything we experience in our 'normal world'. Aside from the healing energies that they produce, the sound occupies the mind space that most of us use to worry and ruminate.
The gong responds energetically to what is needed. Being immersed in the sound of the gong tends to bring people whatever experiences they need in the moment. The experience changes rapidly as the listener relaxes into it and no two experiences are ever the same.
The vibrations from the gong penetrate the cells of the body & have been shown to relieve deeply held stress in the body and restore vitality and health.
WHAT IS YOGA NIDRA?
Yoga Nidra is a form of guided meditation where participants lie on their backs with bolsters and blankets and follow the voice of the teacher in a guided full-body relaxation.
Much like a bodyscan, it is deeply restorative and healing and an excellent precursor to a Sound Bath as it opens the energy channels of the body. Together these two modalities form a potent antidote for the effects of stress on the body and mind. ​
WHAT IS REIKI?
Reiki is a form of hands on healing energy, a balanced universal life force which has its own innate divine intelligence capable of healing on multiple levels. As a Reiki Master, I will be working intentionally with the energy of Reiki throughout these sessions.
TESTIMONIALS
'This was an AMAZING experience. Its actually quite hard to describe just how amazing it was. Again I had never been to anything like this before. It was, without doubt, the most relaxing experience of my life!! I slept better than I have done in years after doing the Sound Bath, and I felt so much better and calmer.' - M. Morris
'The phrase that came to me at the last Sound Bath was a symphony for the psyche. Much more than just hearing the various instruments, the experience is immersive and profound. Having been calmed, quietened and made receptive by the yoga nidra practice – the singing bowls and gong seem to attune themselves to somewhere I can't quite identify, not quite the conscious or the subconscious. There is an immense force in it and it felt like it was on my side – transporting, restoring and empowering. I can't wait for the next one. Thanks for bringing this to us'. - S. Carton, Kiltyclogher, Leitrim
'Amazing. I had the best night sleep I've had in a year'- P. Murray​, Blacklion, Cavan
'Beautifully held space. Sorcha invited us on a journey inward and I found a core of peace & stillness in me that I hadn't expected to find. A truly wonderful evening. I came out feeling deeply contented and connected.' - W. Kennedy, Drumkeeran, Leitrim
'One of Sorcha's many gifts is the ability to guide a group to total relaxation of mind and body. I found the auditory and physical sensation of the vibrations of the singing bowls and gong to be profoundly moving and indeed sacred. Wholeheartedly recommended.'- E. Gillen, Manorhamilton, Leitrim
​
JOIN ME!
Join me for all or one Monthly Sound Bath this Autumn/Winter.
SUNDAY SEPT 25th /
SUNDAY OCT 16th /
SUNDAY NOV 13th
SUNDAY DEC 11th
​BOOKING INFO: https://www.pureshakti.ie/decembergongbath
Call / Text Sorcha on T. 089 2225198
E: info@pureshakti.ie
**************
Bring your own yoga mat to lie on, blankets to cover you and pillows to support your knees, back and /or neck. A sleep eye mask is optional but does enhance the experience.
If you don't have a yoga mat, a camping mat will do, or a sheepskin.
​