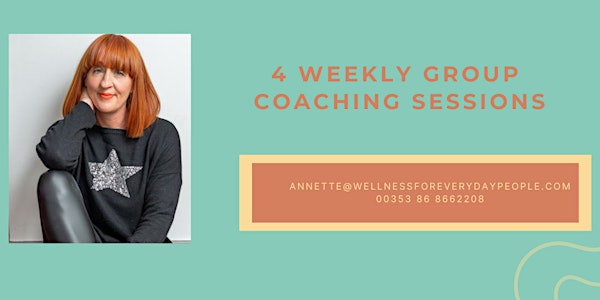 Group Coaching Session
Group Coaching Sessions
About this event
4 x 90-minute group coaching sessions (first 2 sessions free)
I will guide you through my 5 part coaching process.
These coaching sessions are for you if you want to get results and you are stuck and ready to take action and will be committed to getting the results. I will provide any additional support if needed. These sessions will suit you if you want to have a happy healthy lifestyle.
Coaching sessions are for you? If you are a busy, parent, stressed, unhappy, overworked, and forgotten to know to have fun and you know something deep inside has to change.
What you will get
• Group coaching session, to help you see your everyday challenges and learn how to overcome them.
• Educate and inspire you to make positive changes to your health and together we will develop a personalized plan to reach your wellness goals.
• Get a clear Life Vision and understand what your values are and your purpose in life.
• Gives you the tools to dive deep and understand you. What makes you tick? What drives you? What motivates you? What makes you happy? What stresses you?
• Learn to you put yourself first and give yourself the SELF LOVE you deserve
The last 2 x 90 min sessions will be € 200
The usual price of 4 weeks' coaching is € 550.
Be ready to be unstoppable, I will give you the tools and the power to smash through all your goals. Sign up and see for yourself not attachments