Description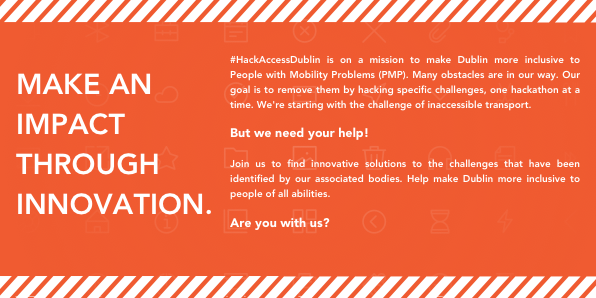 The objective of #HackAccessDublin is to make Dublin inclusive to people of all abilities by hacking the access obstacles in our way.
Engineers, developers, designers, urban innovators, entrepreneurs and anyone interested in innovation; here's your opportunity to make an impact on your city!
Join us to find innovative solutions to Dublin's accessibility challenges.
Help us create a more diverse, open and engaging environment for everyone who lives in this amazing city.
PRIZES
First place - €2,000 plus 3 months hotdesk space, mentors tbc.
Second place - €1,000 plus 3 months hotdesk space.
HOTDESK SPACE IS BEING PROVIDED BY DOGPATCH LABS & DCU ALPHA.
CHALLENGES
The Transport Challenge
Create an alternative mode of transport for people with mobility problems who are not being supported by current public transport methods
The Transport Challenge #2
Create a solution for sensory and visually impaired people to navigate the transport system more efficiently and safely
The Workplace Challenge
Create a solution to help third level graduates with a disability find work placement with employers seeking to create inclusive workplaces. All disabilities.
The Social Challenge
Create a solution that is both user-friendly & easy to implement, which makes it easier for people in wheelchairs to socialise in the city.
The Data Challenge
Create a way to gather and analyse data relating to the accessibility of Dublin's transport system
The Awareness Challenge
Create a way for people to identify & rate the level of accessibility of their environment (public places) including transport, workplaces & community event/cultural/social spaces, so that Dublin has an 'Access Score Card' that would enable the city to track and measure how accessible it is, encourage the better design of our city & create evidence-based solutions in the future.
TWO WHEELCHAIRS HAVE BEEN PROVIDED BY IRISH WHEELCHAIR ASSOCIATION