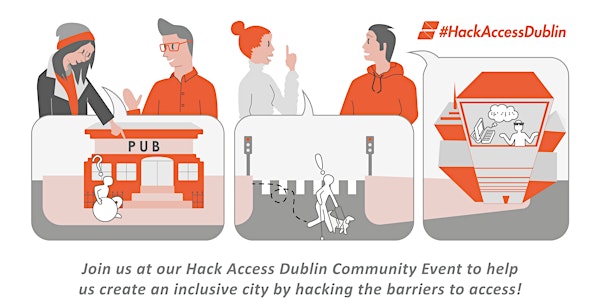 HackAccessDublinCommunityEvent
When and where
Location
Dogpatch Labs Dublin 1 Ireland
Description
The second Hack Access Dublin hackathon event was held in Google in November 2017.
As it was even bigger and better than the first one in 2016 we believe that a movement is beginning to happen here in Dublin. This movement is about Dublin's startup community and innovators from the fields of design, engineering, technology and business, coming together to use their skills to create a more inclusive and diverse city.
The purpose of the Hack Access Dublin Community, which will be run on a bi-monthly basis, is to grow a community of purposeful innovators who're committed to solving the challenges which exclude people with disabilities from not just Dublin, but around Ireland and the world.
We are a team who thinks BIG but we cannot spread this movement without your help!

So join us and meet the Hack Access Dublin Community team and learn about the goals of Hack Access Dublin 2018 and how you can get involved in making them happen. There'll be talks from some of the winning teams of 2017's hackathon. followed by networking.
This meetup will be informative, inspiring and sociable!
For details please visit www.hackaccessdublin.ie
Follow us on: @hackaccessdub