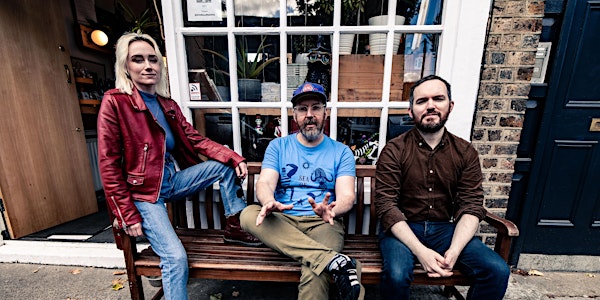 HamsandwicH
Irish Indie-Rock darlings Ham SandwicH return to Live At St. Luke's following the release of their electronic inspired fourth album Magnify
Date and time
Sat, 29 Apr 2023 19:30 - 22:30 IST
Location
Live at St Luke's Live At St. Luke's Summerhill North T23 XE29 Cork Ireland
Refund Policy
Contact the organiser to request a refund.
About this event
HAMSANDWICH
Saturday 29th April
Doors 7.30pm | Show 8pm
Following the release of their brand-new album Magnify, Irish indie-rock darlings HamsandwicH return to Live At St. Luke's in Cork City for an acoustic three-piece show.
The writing and recording of Magnify encouraged new ways of working for the band, notably collaborating with producer Michael Heffernan (Dermot Kennedy, Ailbhe Reddy, Thumper) for the first time. Working with a different cast of collaborators, including Justin Gerrish (Vampire Weekend, The Strokes, Yeah Yeah Yeahs) as well as Emily Lazar and Chris Allgood (Beck, Haim) who mastered the record, also facilitated the band's renewed perspective towards making music.
Elaborating on their renewed artistic approach, Niamh says, "We realised during the making of Magnify that songwriting doesn't need to be so rigid. It can be freer and that the sounds of the words you sing can be just as important to a song as the meaning behind them. It was about having fun with music and the process of it. It's all about challenging yourself and keeping things fresh; not letting things get stale because it's very easy to slip into a formula. That's not something we can do, we've always sought to try new things. Music is so eclectic; there's so much out there and we want to bring a similar variety into our own music and for people to connect with it."
"I think we're always afraid of writing the same song," says HamsandwicH guitarist Darcy ahead of their highly anticipated return with Magnify on September 30th, 2022. Their forthcoming fourth album, released via their Route 109a Recordings, heralds an exciting new chapter for the trio, completed by vocalist Niamh Farrell and guitarist and vocalist Podge McNamee. On Magnify, the band incorporated an array of fresh influences and electronic soundscapes whilst maintaining melodic motifs integral to their idiosyncratic style. Of their latest body of work, Niamh reflects, "We're a band who have constantly evolved over the years and this is our biggest evolution yet."
Initial steps towards this evolution were made when the trio entered the studio in Autumn 2019. Immediately HamsandwicH embraced the concept of making music for themselves; unconcerned with commercial success. "We're always happy to push ourselves and take risks because we have to keep it interesting. Since we didn't put pressure on ourselves to write songs for the radio, we felt that we could really do whatever we wanted. 'The Next Contender', for example, has a few different movements within the arrangement. That was a really refreshing way to write music because it gave us a great sense of artistic release," describes Darcy.
Refunds are only available if the show has been cancelled or postponed.