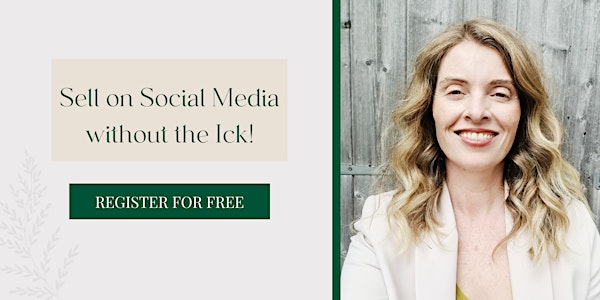 How to Sell on Social Media without the Ick
Are you interested in selling your services on social media but have that feeling that it's a bit icky to direct message your followers?
About this event
Do you have an active social media profile but you just don't feel right about reaching out to people? Do you spend time and effort on social, creating images and posts but you're not sure how to translate that into sales...
THE RIGHT CONTENT IS VITAL TO ATTRACT HIGHER CALIBRE CLIENTS
And so is interacting on social media, reaching out to your followers, making connections and selling your services. What's holding you back? Something is, and I bet I have the answers- That's why we are doing this live masterclass!
I will show you how to kick things into gear... no matter WHAT roadblocks are stopping you now!
I WANT YOU TO ASK YOURSELF A POWERFUL QUESTION...
What would you do in about 30 days from now if you woke up, hit "refresh" on your email software... ... and found, highly-engaged subscribers hanging out on your contact list?
Would you... pre-sell that new online course you've been dreaming about? ... Direct the right people to your new blog post or podcast? Or the webinar you're about to host?
I WANT THIS FOR YOU.
3 Secrets that you will learn:
1. How to create a successful social media funnel
2. How to create content that attracts your future clients.
3. How to use social media to find new clients.
If you are finally ready to use social media to find clients, without wasting hours of time on content production. To get ready to attract more of the right clients for you, then register for free below.