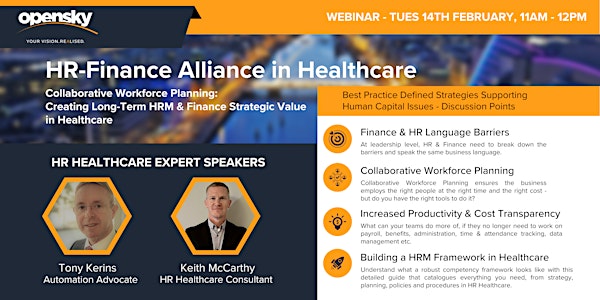 HR-Finance Alliance in Healthcare
Collaborative Workforce Planning: For Long-Term HRM & Finance Strategic Value in Healthcare For HR & Finance Strategic Leaders in Healthcare
Date and time
Tue, 14 Feb 2023 03:00 - 04:00 PST
About this event
Who is this event for:
HR & Finance Strategic Leaders working in Healthcare organisations, looking to integrate their HR & Finance departments, to elevate both functions to a more strategic position in the organisation by addressing and solving human capital issues.
Over the past 3 years, Finance and HR teams are shifting to align their goals to deliver significant results to organisations - but the data gap that exists between the 2 functions must be bridged in order to achieve common goals that unlock employee performance and increase profitability.
What's Covered:
Best Practice Defined Strategies & Technology Supporting Human Capital Issues
Finance & HR Language Barriers: At leadership level, HR & Finance need to break down the barriers and speak the same business language.
Collaborative Workforce Planning ensures the business employs the right people at the right time and the right cost - but do you have the right tools to do it?
Increased Productivity & Cost Transparency: What can your teams do more of, if they no longer need to work on payroll, benefits, administration, time & attendance tracking, data management etc.
Building a HRM Framework in Healthcare: Understand what a robust competency framework looks like with this detailed guide that catalogues everything you need, from strategy, planning, policies and procedures in HR Healthcare.
With insights from leading healthcare providers in Ireland that have adopted HR & Finance Integration, learn how integrating HR & Finance systems, enables healthcare organisations to have real-time visibility into both the human and the financial side of workforce planning - allowing teams to;
- forecast accurate headcount plans via visibility of historical patterns
- ensure the right mix of people within specific functions
- identify skills gaps on the horizon and create suitable hiring plans
- build a stronger workforce culture with heightened engagement and retention without breaking budgets
Speakers
Tony Kerins
Principal Automation Advocate at OpenSky Data Systems Tony Kerins has worked as a qualified trainer, business mentor, and executive coach with 25 years' experience in certified technical training and education. Within his role with OpenSky, Tony is exploring HR process automation & HR-Finance alignment, with some of Ireland's Hospital Groups as well as other healthcare providers. Over his wide-reaching professional career, Tony has developed a deep and nuanced expertise in systems, human organisation, and training from a diverse multi-sector background in Military, Air Traffic Control, Information Technology Development, and Human Resources Management roles. As a vanguard in the business consulting and HR leadership space, Tony brings considerable experience and insight to OpenSky through the exploration & identification of high-impact, people-first automation solutions.
Keith McCarthy
Keith is a HR Healthcare specialist, consultant and trainer with a deeply experienced track record of working in HR leadership roles in the private and public sectors in Ireland. As a driver of major HR transformation in the RCSI Hospital Group as Group HR Director, Keith's healthcare HR experience originated as Head of Talent Management & HR, in the Hermitage Medical Clinic, and with previous experience as Director of HR in Mazars Ireland. His areas of expertise include HR strategy, change programmes, organisation & structure reviews, engagement strategies, building managerial/employee capability, and legislation and best practice compliance. Keith's approach strategically leverages modern tools and management to fine-tune HR strategy, recruitment & training, change management, company structure, best-practice compliance, and much more.