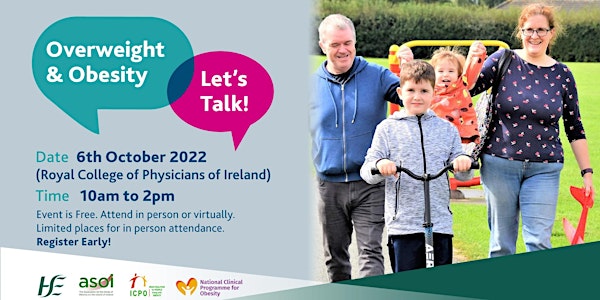 HSE Overweight and Obesity, Let's Talk Event, In Person and Online
The Overweight & Obesity.. Let's Talk Event will be both in person and broadcast through webinar focusing on children and young people.
When and where
Location
RCPI 6 Kildare St 6 Kildare Street D02 E434 Dublin 2 Ireland
About this event
6th October, 2022 10am – 2pm
This year, the annual Overweight and Obesity... Let's Talk event will be broadcast live from the Royal College of Physicians of Ireland, Dublin 2.
The theme will focus on children and young people. It is free and open to everyone with an interest in this area, including the general public, parents, researchers and healthcare professionals.Attend in person or virtually. Limited places for in person attendance. Register early!
This annual event aims to share the science behind obesity, to inspire best practice in obesity care, to break the stigma of obesity through sharing lived experiences and to explore conversations about weight and health. There is something for everyone:As a member of the Public
• Understand more about overweight and obesity in children and young people
• Learn helpful ways to raise the topic with healthcare professionals, friends and family.
• Explore common misconceptions and concerns about obesity treatment from the experts.
As a Healthcare Professional
• Explore the latest research on topics such as eating disorders, adolescent obesity and evidence-based obesity care
• Keep up to date with the work of the National Clinical Programme for Obesity, the Association for the Study of Obesity in Ireland (ASOI) and Irish Coalition for People living with Obesity (ICPO).
• Learn what services, training and resources are available nationally to help you support adults, children, and young people with overweight and obesity
09.30am Registration
10.00am Welcome from Dr Ciara Martin, HSE NCAGL Paediatrics
Obesity and Eating Disorders (55min incl 5min break)
10.10am Obesity Clinical Programme Update& Introduce Session: Prof Donal O'Shea HSE Clinical Lead Obesity
10.15am Obesity treatment and eating disorders: Current evidence and challenges, Dr Hiba Jebeile, Research Fellow, Research Dietitian, Co-lead and Program Manager, Eating Disorders In weight-related Therapy (EDIT) Collaboration, University of Sydney
10.40am Panel Discussion: the common elements of good practice in obesity and Eating disorders Donal O'Shea/Hiba Jebeile/Fiona Quigley/ICPO Rep/Paediatric Rep/Eating Disorders Rep)
11.00am Movement Break
Obesity Treatment and Young People
11.05am ASOI Update &Introduce Session Dr Cathy Breen, ASOI Chair and Clinical Specialist Dietitian
11.10am Insights from ACTION-IO. Living with obesity in Adolescents. Prof Jason Halford, President of the European Association for the Study of Obesity & Head of School of Psychology, University of Leeds
11.35am Adolescent Obesity Mr Konstantin Voynikov, ECPO Patient Representative
11.50pm Refreshment break
12.10pm What is treatment and how do we deliver? Dr Grace O'Malley, Star Research Lecturer and Clinical Lead, W82Go, CHI at Temple St
12.35pm HSE Weight Management Service for Children and Young People Geraldine Sexton, Senior Project Dietitian, HSE Healthy Eating Active Living Programme
12.50pm Panel Discussion Jason Halford, Konstantin Voynikov, Gerladine Sexton, Cathy Breen, Grace O'Malley
Childhood Obesity: Lets Talk (60 min)
1.10pm ICPO Update and Welcome & Introduce Session Susie Birney, ICPO Director
1.15pm Talking to your child about weight -what parents are telling us Sarah O'Brien, Programme Lead, HSE Healthy Eating Active Living Programme
1.30pm Panel Discussion: Raising the topic in healthcare and family Susie Birney, Dr Mick Crotty (GP Specialist in Bariatrics), Bernadette Keenan (ICPO), Konstadine Voynikov, Sarah O'Brien
1.50pm Wrap Up and Close
2.00pm ENDS