InnerSource Commons - The Role of Middle Management
Join us for our next event where we will discuss how to obtain buy-in from Middle Management
Date and time
Wednesday, May 11, 2022 · 1 - 2am PDT
About this event
Role of Middle Management
Middle management plays a critical role in the implementation of InnerSource. The latest State of InnerSource report suggested that middle management can be perceived as a blocker. But there are also critical enabling practices that can only be facilitated by middle managers. Join us for a fascinating panel discussion on this topic featuring Matt Cobby (Deloitte), Danese Cooper (InnerSource Commons), Jamie Strusz (GitHub), and Jack Yang (Trend Micro). Together, we will explore the role middle managers can and should play to make InnerSource successful in your organization.
After the initial panel discussion, we will be facilitating an open Q&A on the topic that will be held under the Chatham House Rule. Join us there to share your insights, challenges and best practices.
This community call will be starting at 9am BST / 10am CEST / 1:30pm IST / 4pm CST..
AGENDA
Please note that doors will open 15 minutes before the session starts, and we encourage you to join for some virtual hallway chat.
[05 mins] Welcome
[25 mins] Panel
[25 mins] Community Discussion: This part of the community call will be held under the Chatham House Rule. Participants will be free to use the information received, but neither the identity nor the affiliation of the speaker(s), nor that of any other participant, may be revealed. This part of the event will not be recorded.
[5 mins] Wrap-up
We typically also leave some space after the formal end of the event for some more informal chat. Please feel free to join us.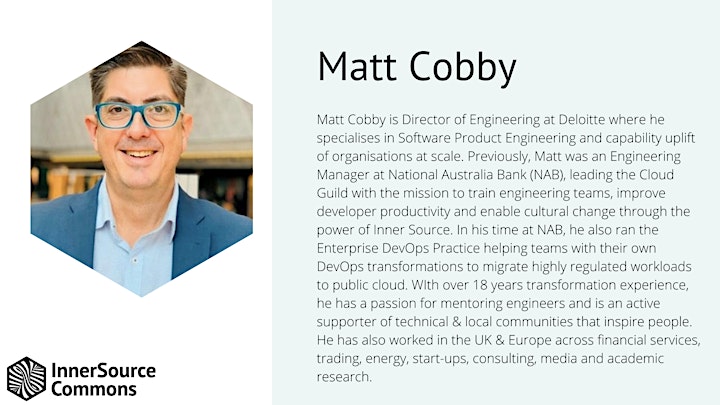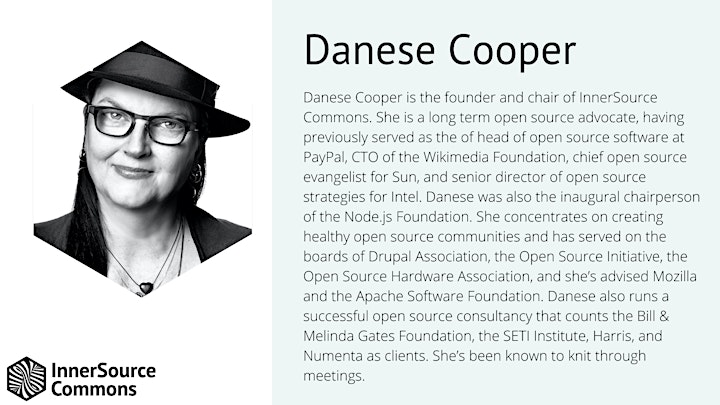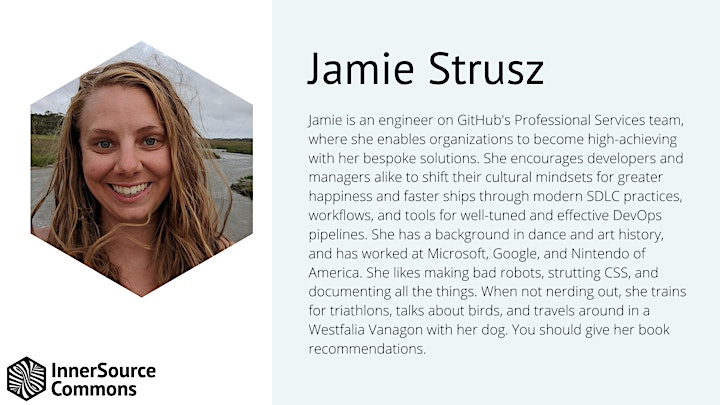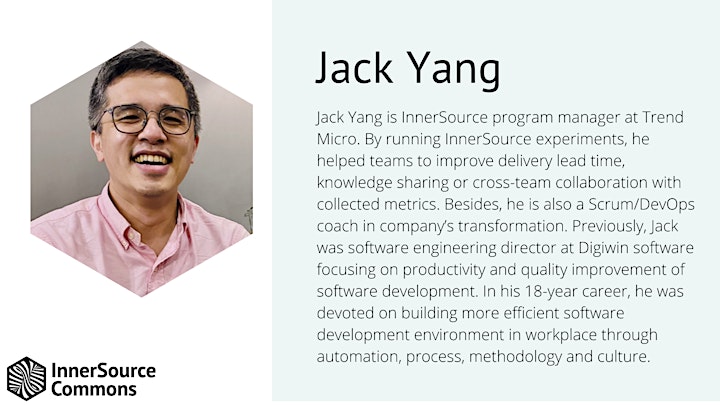 About the organizer
The InnerSource Commons is the world's leading community for InnerSource practitioners. Founded in 2015, the InnerSource Commons is now supporting and connecting over 2000 individuals from over 750 companies, academic institutions, and government agencies.
The InnerSource Commons supports practitioners and those who want to learn about InnerSource by a broad array of activities. It provides learning paths on how to get started with InnerSource, curates known best practices in the form of patterns, facilitates discussion on the InnerSource values and principles, and organizes the leading practitioner conferences dedicated to InnerSource - the InnerSource Commons Summits.
To join this growing community, please visit us at www.innersourcecommons.org.
InnerSource Commons' events operate under our Code of Conduct.