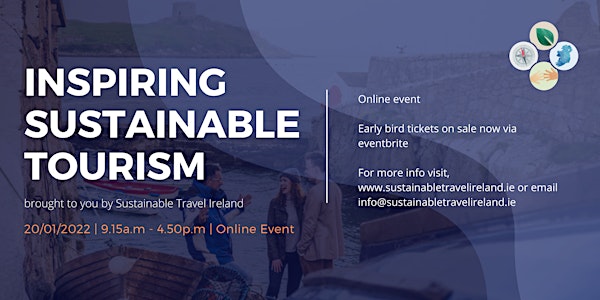 Inspiring Sustainable Tourism 2022
Inspiring Sustainable Tourism - Thursday 20 January 2022 9.15am-4.50pm
Refund Policy
Contact the organiser to request a refund.
About this event
Inspiring Sustainable Tourism - Building a better future for Tourism
Sustainable Travel Ireland's annual conference
Thursday 20 January 2022 9.15am - 4.50pm
Online event
Tickets from €65 + VAT
Members, groups and student are entitled to a generous discount. Email info@sustainabletravelireland.ie today for your discount code.
Following the huge success of our 2021 conference, our upcoming Inspiring Sustainable Tourism event is a must for future-focused tourism businesses that want to improve their sustainability credentials.
Our online conference will be packed with insights from both international and Irish leaders in their fields. We will offer practical advice, as well as inspiration from ordinary business owners that have transformed their operations and taken the lead in responsible and sustainable tourism.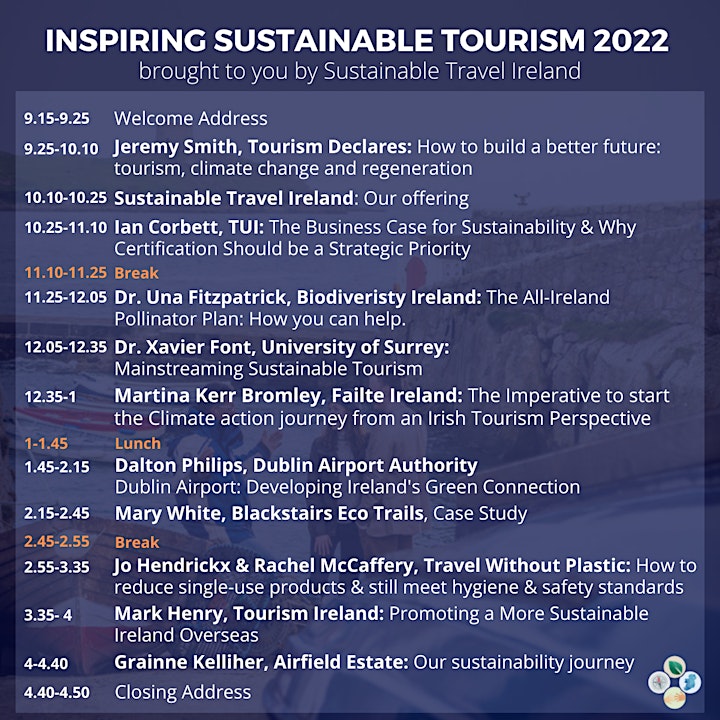 Our fantastic line-up includes:
Jeremy Smith, Tourism Declares
How to build a better future: tourism, climate change and regeneration
Jeremy Smith is a writer and strategist working to ensure a sustainable and regenerative future for tourism. In 2020, he co-founded Tourism Declares a Climate Emergency, a global initiative of over 420 destinations, businesses and organisations committed to equitable science-based climate action. In 2021, he was a co-author of the Glasgow Declaration for Climate Action in Tourism, which launched at COP26 in Glasgow and was built on the original framework and commitments of Tourism Declares. He is now working with the UNWTO and Travel Foundation to ensure the implementation of the declaration over the next decade.
Jeremy is a regular commentator on sustainability and equity issues in tourism, the author of the books Transforming Travel - realising the potential of sustainable tourism and Clean Breaks - 500 new Ways to See the World, and co-founder of travindy.com, the travel industry sustainable tourism website news site. He advises destinations and businesses in sustainable tourism strategy, and sits on the advisory boards of the Future of Tourism Coalition and Travalyst.
Dr. Xavier Font, Professor of Sustainability Marketing at the University of Surrey, UK
Mainstreaming Sustainable Tourism
Dr Xavier Font researches and develops methods of sustainable tourism production and consumption. He has published widely about sustainable tourism certification, and has consulted on sustainable product development, marketing and communication for several United Nations agencies, the International Finance Corporation, the European Commission, national tourist boards and the private sector. He has conducted over 150 courses for more than 3000 businesses on how to market and communicate sustainability. He is currently the Principal Investigator for the University of Surrey for the €23m Interreg project Experience, that is developing low season sustainable tourism visitor experiences.
Ian Corbett - Head of Sustainability - Hotels & Marketing, TUI Group
Ian is the Head of Sustainability – Hotels & Marketing for TUI Group, which operates worldwide and provides an integrated offering to its 28 million customers. The group's portfolio includes over 400 hotels and resorts, 16 cruise ships, five airlines and 1,000 travel agencies. The Group also includes leading tour operator brands and online marketing platforms across Europe.
TUI formed one of the first sustainability departments in the tourism industry in the early 1990s and global responsibility for sustainable economic, ecological and social action has been at the core of its corporate culture ever since.
Ian works as part of single, global Group Sustainability team to drive the sustainable business transformation of TUI and ensure its potential to be a catalyst for innovation and brand differentiation continues to be realised.
Ian holds a law degree from the University of Sheffield and has worked in the tourism industry for over twenty years. He decided to specialise in sustainable tourism having started his career in marketing, brand and commercial management roles.
For further information visit https://www.tuigroup.com/en-en/responsibility
Dalton Philips - Dublin Airport Authority
Dublin Airport: Developing Ireland's Green Connection
Dalton Philips has been the Group Chief Executive of daa plc since October 2017.
His career began with Jardine Matheson, with roles in New Zealand, Australia and Spain. He then spent seven years with Walmart in Brazil and Germany.
In 2005 Dalton joined the Weston family, as CEO of luxury goods retailer Brown Thomas Group (Ireland), and in 2007 as COO for Loblaw Companies Ltd, the leading Canadian grocery retailer.
Between 2010 and 2015 Dalton was CEO of Wm Morrison Plc, the UK's 4th largest supermarket chain.
Dalton has also been a Senior Advisor to The Boston Consulting Group.
Dalton has a BA from University College Dublin, an MBA from Harvard Business School and an honorary Doctorate of Management from Bradford University.
Dr. Una FitzPatrick - Senior Ecologist, National Biodiversity Data Centre
The All-Ireland Pollinator Plan: How you can help
Úna FitzPatrick co-founded the All-Ireland Pollinator Plan (AIPP) in 2015 and is Chair of the Steering Group and also oversees implementation of the Plan. Úna has a Ph.D. in botany. She worked on a project on the conservation of Irish bees before joining the National Biodiversity Data Centre in 2007. The Centre is responsible for the collection, collation, management, analysis and dissemination of data on Ireland's biological diversity. As Senior Ecologist, Úna is responsible for the plant, vegetation and pollinator work programmes of the Centre.
This talk will explore the many positive ways that the tourism industry can engage in the AIPP in coming years.
One third of our 99 wild bee species are currently threatened with extinction from the island of Ireland. In publishing the first All-Ireland Pollinator Plan in 2015, Ireland became one of the first countries in Europe to address this issue – in order to ensure the sustainability of our food, avoid additional economic impacts on agriculture, and protect the health of the environment. The first phase of the plan has been very successful and has led to positive changes across all sectors. It is a shared plan. By together taking simple evidence-based actions, we can better protect our biodiversity.
Jo Hendrickx & Rachel McCaffery - Travel Without Plastic
How to reduce single-use products and still meet hygiene and safety standards
Rachel McCaffery has over 15 years of experience in tourism and sustainability. One of the founders of Travel Without Plastic, she used her experience of working with businesses to overcome problems to establish Greener Guest – a knowledge hub and marketplace to help hospitality businesses reduce plastic and source more sustainable alternatives. Rachel has driven sustainability strategy and supply chain management for commercial tour operators such as Airtours, Virgin Holidays, STA Travel and Virgin Atlantic. She was heavily involved in the creation of the Association of British Travel Agents' (ABTA) sustainability tools such as the Travelife Sustainability System, the Global Animal Welfare Guidelines and Responsible Volunteering Guidelines, and works with visitor attractions, hotels, destinations and other tourism businesses to implement and promote sustainable tourism.
Jo Hendrickx is the Founder of Travel Without Plastic and Co-Founder of Greener Guest. She has over 20 years of experience in the tourism sector, and since 2007 has worked directly with accommodation providers, excursion suppliers and tour operators to support the practical implementation of sustainability strategies. Jo has worked on waste reduction projects in Europe, the Caribbean and Asia since 2011, and has always been an advocate of circular solutions to drive a responsible approach to single-use plastic reduction. More recently she undertook a scoping report on litter reduction on behalf of the Snowdonia National Park Authority and was also the lead author of 'Rethinking Single Use Plastic Products in Travel & Tourism' by UNEP and the WTTC' published in June this year.
Martina Kerr Bromley, Failte Ireland Enterprise Team
The Imperative to start the Climate action journey from an Irish Tourism Perspective
Martina Kerr Bromley has over 25 years' experience in senior positions in Tourism development, Brand Marketing, Sales and Business Development both internationally and at home and has achieved a masters in innovation and leadership. With over 17 years in Tourism, and her current dynamic and national role as Head of Enterprise Development with Failte Ireland, Martina has extensive experience in developing business supports, design solutions and key strategic initiatives to drive on performance across the tourism and hospitality industry. Having managed the Brexit response for Failte Ireland, lead out on Taste the Island (first all island food development & positioning initiative) With the latest development of the award-winning Business Supports Hub, her division has delivered a best-in-class range of business advice, guidance, and tools to support Industry navigate through Covid.
With a focus now on sustainable practices for Tourism Businesses to drive efficiencies and improvements in business and support the climate action agenda for Government Martina and her team are working on developing practical and tactical supports to educate and guide industry through the necessary steps they need to take on to drive on the climate change agenda at the level of the business and within key tourism destinations.
Mary White - Blackstairs Ecotrails
Case Study: Blackstairs Ecotrails's sustainability story
Mary White runs Blackstairs Ecotrails in the Blackstairs Mountains and the Barrow Valley with her husband Robert and daughter Dorothy Ellen. The business is an award-winning eco-tourism business and is a gold certified member of Sustainable Travel Ireland. Mary works with schools and other organisations running wildlife and foraging workshops, team building events and Celtic Tree Trails.
Mary is a former Green Party TD for Carlow/Kilkenny and former Minister of State for Equality, Human Rights and Integration. She is a linguist, walking guide, forager, and flora and fauna specialist. She speaks to a wide public on deep ecology, eco tourism, climate change, sustainability and other green issues.
Mark Henry - Tourism Ireland
Promoting a more sustainable ireland overseas
Mark Henry leads the Central Marketing Division of Tourism Ireland (TI). His remit includes strategy, research, brand, content creation, digital platforms, customer engagement and industry partnership. Mark represents TI on the Department's Sustainable Tourism Working Group, and chairs TI's internal Sustainability Taskforce. He is also the author of In Fact: An Optimist's Guide to Ireland at 100 which charts the progress that Ireland has made in its first 100 years as an independent nation.
Grainne Kelliher - CEO, Airfield Estate
Case Study: Airfield Estate's sustainability story
Gráinne Kelliher is CEO of Airfield Estate, a not-for-profit, self-financing visitor experience which is home to a working farm, food and ornamental gardens, heritage experience, cookery school and vintage cars. It is also a Research Base for Food, Agriculture and Sustainability, with a mission 'to inspire and enable people to make food choices that benefit people, planet and pocket'. Airfield engages with thousands of schools and hosts many food related conferences and events each year. It collaborates with third level institutions to carry our research and create educational programmes around the area of food sustainability. Grainne is committed to preserving and sustaining Airfield Estate for future generations whilst always being true to the wishes of its original owners, Letitia and Naomi Overend, who set up Airfield as a charitable trust in 1974.
Prior to Airfield, Grainne spent 25 years working at executive level in organisations such as Disneyland Paris, Quinlan Private and Aramark.
Sustainable Travel Ireland
What we offer and how we can help your tourism business
Sustainable Travel Ireland, formerly Ecotourism Ireland, is Ireland's leading and longest-running body for the promotion of sustainable and responsible tourism. We have been training and certifying businesses since 2009. Our internationally recognised certification standard is the only set of criteria used in Ireland recognised by the Global Sustainable Tourism Council (GSTC).
Sustainable Travel Ireland is a profit-for-purpose company. Our purpose is simple! We want to transform the Irish tourism industry into one that respects and protects the environment, but also supports local communities and makes better places for people to live and work in.
Rob Rankin- Director, Sustainable Travel Ireland & Vagabond Tours
Welcome Address
Rob is the founder and owner of Vagabond tours – Ireland's leading small group tour operator and one of most respected brands in Irish tourism. The company has achieved many firsts in Irish tourism in terms of innovation, product development and marketing. Vagabond has also won many awards and is the only Irish company to be chosen as one of National Geographic Traveller's '50 Tours of a Lifetime'.
Rob is also recognised as a practical and dedicated voice for sustainable tourism in Ireland, not only through the actions of Vagabond, but as the owner of Sustainable Travel Ireland, which trains and certifies Irish tourism businesses according to GSTC-recognised criteria. Rob has completed Cambridge University Institute for Sustainable Leadership's excellent course in Sustainable Business Leadership.
Outside of his day jobs, Rob also wears a few other hats. He is currently President of the Incoming Tour Operators Association (ITOA), was the co-founder and founding chairman of Ireland's Association of Adventure Tourism ( IAAT) and sits on many leading industry working groups and committees.