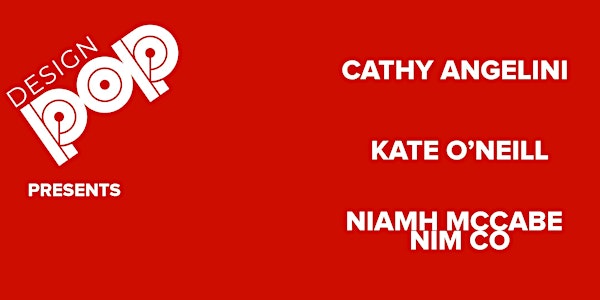 Interior design - Design and creativity how it impacts our everyday lives.
Kate O'Neill (The visual loop), Sarah O'Neill (Designer), Niamh McCabe (Nimcake) and Cathy Angelini (Cathy Flamingo)
When and where
Location
Wandesford Quay Wandesford Quay Cork Ireland
About this event
KATE O'NEILL- Kate has spent over a 15 years working across the creative industries in both the UK & Ireland, supporting and encouraging artists through talks, workshops, mentorships, portfolio reviews and curated projects. Founder of The Visual Loop – a platform initiated to connect visual artists and local businesses – Kate also works with companies like The Photographers Gallery London, Metro Imaging, Brighton Photofringe and Gallery of Photography Ireland via professional development talks and workshops.
The Visual Loop- A collaborative platform for both corporates and creatives, making art that is sustainable and accessible to all.
Niamh McCabe- Niamh McCabe is the Creative Director of Spacey Studio and Nimcake. Niamh designs with the aim to bring a little more joy into the world by creating playful spaces and objects. She believes colours and patterns, in soft, organic, flowing shapes, enhance our mood and the use of bright colours help lift our spirits, help us to feel creative and more alert. This belief system is apparent through the cross discipline of Niamh's work.Niamh began the interior design studio, Spacey in July 2017 – where they focus on joyful, functional, artistic design for tech companies, small businesses and homes. The Nimcake brand launched during lockdown, after years of planning. Nimcake handmakes and designs sustainable, reusable masks. The fabric used is a custom design of Niamh's hand painted patterns, digitally printed with eco-friendly dyes onto 100% cotton.
Cathy Angelini - Cathy Angelini is the founder of Flamingo Interior Design. With a degree in Interior Architecture in her back pocket, she took the plunge and started her own interior design and interior architecture business in 2016. Over the past four years she has worked on both residential and commercial design projects. She is passionate about creating unique spaces that are considerate to the user and the history of the space. She believes that no design is limited by budget and every design needs an element of bravery.
Design POP is supported by Backwater Artists Group, Cork Printmakers and the Lavit Gallery through the Arts Council of Ireland's In The Open – Faoin Spéir award: A curated programme of multi-disciplinary, inclusive arts activities in community outdoor spaces running from July 2021-April 2022.