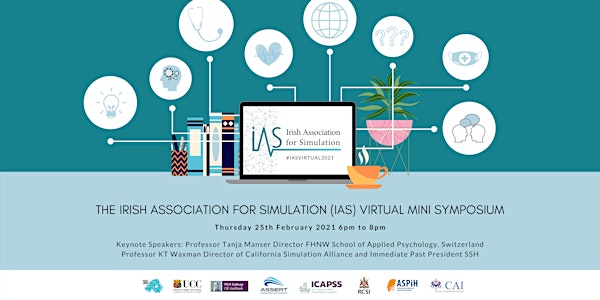 Irish Association for Simulation (IAS) Virtual Mini Symposium 2021
Irish Association for Simulation Virtual Mini Symposium 2021
About this event
The Irish Association for Simulation (IAS) is delighted to announce a Virtual Mini Symposium that will take place on Thursday 25th February 2021 6pm to 8pm.
#IASVirtual2021
The two keynote speakers are :
Prof. Tanja Manser, Director of the FHNW School of Applied Psychology in Switzerland, and
Prof. KT Waxman, Director of the Executive Leadership DNP Programme at the University of San Francisco
The key notes will be followed by a panel led discussion and Q & A session on simulation in Ireland
We hope that you can join us for this event.
Register for free and we hope to see you (virtually) on the 25th February 2021 at 6pm.
Find out more at:
www.IASSIM.com and follow the #IASVIRTUAL2021 hashtag on twitter.
The outline for the event is as follows:
1800-1805 Welcome
1805-1810 Introduction to Keynote 1
1810-1845 Keynote 1
1845-1855 Keynote 1 questions
1855-1900 Introduction to Keynote 2
1900-1930 Keynote 2
1930-1940 Keynote 2 questions
1940-2000 Panel discussion: opportunities for simulation
2000 Closing
2000-2020 AGM