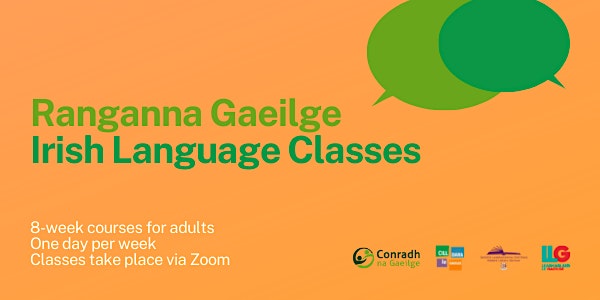 Irish Language Course -Ardrang: Gaeilge Measartha Ard (Upper Intermediate)
Irish Language Course -Ardrang: Gaeilge Measartha Ard (Upper Intermediate)
About this event
An 8-week Upper Intermediate level Irish Language course for adults provided by Kildare Library Service in conjunction with Cill Dara le Gaeilge and Conradh na Gaeilge. Classes will be delivered via Zoom.
• Oiriúnach do dhaoine an Ghaeilge a labhairt go muiníneach (Aimed at those confident in speaking as Gaeilge).
• Sásta nathanna cosúil leis seo a úsáid: (Happy to use phrases such as):
o "an raibh deis agat sin a dhéanamh?"
o "caithfidh mé a rá, bhí sin go hiontach"
o "céard a cheap tú faoi sin?"
The teacher will coordinate the use of Zoom Break-Out Rooms during the classes to encourage the students to practice their listening/speaking skills in small conversational groups. The teacher will provide notes and support material/links as part of the class. Zoom login details will be sent before the classes begin.
You will be sent Zoom login details before the event.
Kildare Library Service Privacy Statement for Eventbrite