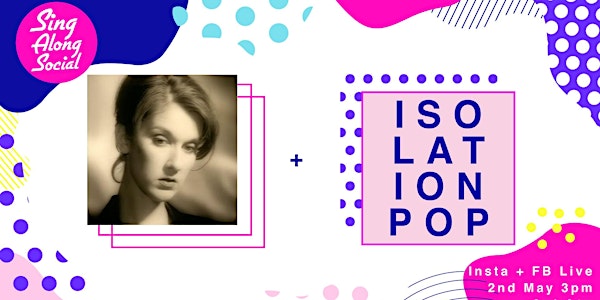 Isolation Pop Sing Along Social // FB + INSTA LIVE
Get the playlist and lyrics before the event so you're ready to sing along, or even become an honourary Craic Mechanic for the day!
About this event
Aoife Mc and The Craic Mechanics are DELIGHTED to invite you along to another virtual Sing Along Social.
We'll be going live on Instagram and Facebook on Saturday 2nd of May at 3pm. The theme? Why, it's isolation pop, of course. None of us want to be all my ourselves anymore so let's hold on for one more day until we can break free and sing alongside each other in real life!
We'd be so grateful if you are in the position to buy a BASIC CRAIC ticket for €5 + booking. You'll receive the playlist and the lyrics before the show so you can practice those high notes before we meet online.
We also have a teeny tiny number of extremely limited DELUXE CRAIC PACK (Instagram Only) tickets for €25 + booking. This is exciting. You will become an honourary Craic Mechanic. Aoife Mc will post you a (sterilised and safe) Craic Pack filled with some choice craicessories to help you make your debut on our Instagram screens as an Honourary Craic Mechanic. Aoife Mc will be assigned a song from the playlist for you to spark the craic flames of the Sing Along Social family. The only thing you need is charisma... and an Instagram account.
We also understand if you're not in the position to buy any ticket at the moment. It goes without saying, please feel free to tune in on the day even if you don't have a ticket. The more the merrier and you are extremely welcome.
As always we'll be donating 20% of our profits to our friends at Joyful Noise, who are a community music project for adults with intellectual disabilities based in Dublin.