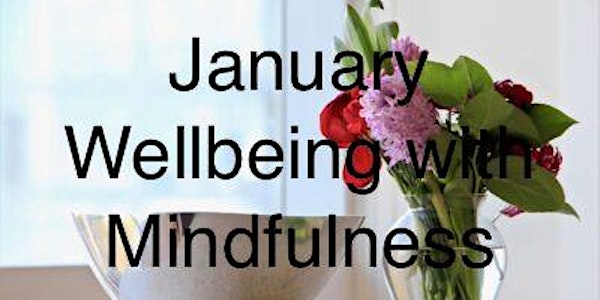 January Wellbeing with Mindfulness online course . Begin anytime from 14th.
TO SET YOUR OWN PRICE CLICK 'TICKETS' ABOVE TO CHOOSE THAT OPTION
Refund Policy
Refunds up to 1 day before event
About this event
Bring the benefits of mindfulness, self compassion, acceptance and gratitude to the start of your year and beyond. One of my most popular online courses.
Enhance your year - and your life - with this January Wellbeing with Mindfulness experience, including mindful awareness, acceptance, self-compassion and gratitude.
Mindfulness reduces stress and enhances your general well-being.
Self-compassion helps you to be a true friend to the person you already are - you don't have to wait until you're perfect!
Gratitude gives you a boost to your sense of well-being and positivity.
Acceptance can help you to move on with your life and to take new paths.
Where and when can I take part?
The course is online and accessible at any time from 14th January. Most of the material can be downloaded and saved.
What does it contain?
Ideas for practice
Videos
Links to useful material
A discussion forum (optional or if you prefer you can use a non-identifying username.)
I will add course participants to my daily mindfulness reminder, The Daily Bell, for the duration of the course as the material will reinforce the lessons. Should you wish to unsubscribe at the end it is very easy to do so.
​What if I can't keep up because of work or holidays (or even work or life in general)?
Don't worry, the course will be there for you when you get back. You can postpone at any time.
Can I buy a place for a friend?
Yes. I recommend you buy it as if for yourself and then send the enrolment link (which I will send you) to your friend who can take it from there.
Can I get a CPD certificate?
Yes, for 7 hours. Contact me after you have finished the week.
How do I get into the course?
The access link will be in the confirmation when you buy a place.
If I buy a place what happens next?
You will get a confirmation from Eventbrite on the screen and by email. Scroll to the bottom of the email to see the message from me. I will also email you separately before the course begins. If you don't get a confirmation email check your spam folder.
Contact information
My website is https://www.padraigomorain.com and my email address is pomorain@yahoo.com
About the organiser
Author of books Daily Calm, Mindfulness on the Go, Kindfulness, Mindfulness for Worriers, and Light Mind. I have taught people in all walks of life how to integrate mindfulness into their routine without lengthy meditations. My books have been published in several languages and I have demonstrated mindfulness practice on TV and radio in Ireland and the UK. Health service workers, home makers, students, counsellors, coaches, business people and many others have attended my courses. I am accredited by the Irish Association for Counselling and Psychotherapy.