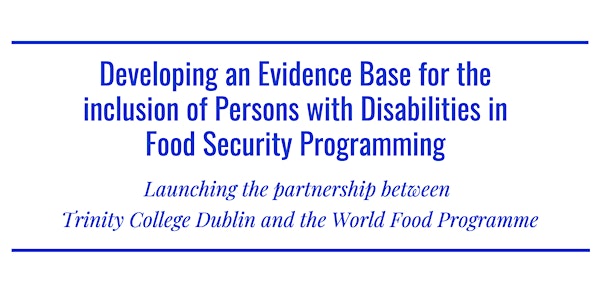 Launch of research partnership between WFP and Trinity College Dublin
This event launches the research partnership between the World Food Programme and Trinity College Dublin.
Date and time
Thu, 3 Dec 2020 01:00 - 02:15 PST
About this event
The research collaboration between Trinity College Dublin and WFP seeks to develop an evidence base for the inclusion of persons with disabilities in food security programming. With expertise and experience across different disciplines, the partnership provides an opportunity to explore how WFP can ensure that food insecure people with disabilities are fully included in their programming. The two-year project will address the following objectives, using robust, theory-driven methods, to (i) Identify feasible, appropriate and acceptable means to collect disability data, considering what works, at what point in the programme cycle and in what contexts (ii) Explore and quantify barriers and enablers to the accessibility of WFP's Accountability to Affected Populations approach for persons with disabilities, and (iii) Identify feasible and appropriate means to disaggregate Key Performance Indicators by disability (alongside sex and age). The TCD research team is closely aligned with the Disability Inclusion Team in WFP, headed by Dr Kirsten Young.
The event will include opening remarks from the Deputy Executive Director of WFP, Amir Mahmoud Abdulla and the current Chancellor of Trinity College Dublin and former president of Ireland, Mary McAleese. The project team, alongside WFP colleagues will participate in a panel discussion moderated by Mary Keogh, Advocacy Director for CBM Global.
The event will be in English and interpreted into International Sign
-----
Amir Mahmoud Abdulla became the Deputy Executive Director of the World Food Programme in March 2009. In February 2017, Mr Abdulla returned to Rome and led the successful implementation of the new corporate architecture aligning WFP's strategy, human resources, programme structure, financial management, and planning, monitoring and reporting to help achieve the Sustainable Development Goals at country level. In addition to his responsibilities as deputy principal, he currently oversees the Executive Board Secretariat and the divisions providing key support to WFP field operations worldwide: Emergency Operations, Supply Chain Operations, and Security. Before moving to New York, he was the Chief Operating Officer (COO), overseeing the WFP Regional Directors and the Directors of Emergencies, Gender, and Field Security, and was responsible for leading WFP's extensive field operations.
Dr Mary McAleese will provide opening remarks on behalf of Trinity College Dublin. She is the Chancellor of Trinity College Dublin and former President of Ireland. She is a barrister and former Professor of Law with a longstanding interest in many issues concerned with justice, equality, social inclusion, reconciliation and human rights. The theme of her Presidency was 'Building Bridges'. In 2018 she was appointed Professor of Children, Law & Religion at University of Glasgow and is Chair of the Von Hügel Institute, University of Cambridge, former Burns Scholar at Boston College (2013), Keogh-Naughton Fellow, University of Notre Dame (2015) and Distinguished Scholar at St. Mary's University Twickenham (2016).
Dr Mary Keogh is Advocacy Director for CBM Global (https://cbm-global.org) where she is responsible for leading on CBM Global's advocacy strategy in partnership with organisations representing persons with disabilities Mary has worked in international development for over many years, before working with CBM, she worked with the International Disability Rights Monitor. She holds a doctorate in public law and policy and her research interests include intersectionality, gender equality and climate justice and persons with disabilities.
Dr Caroline Jagoe is Assistant Professor in the Department of Clinical Speech and Language Studies, Trinity College Dublin and research lead in the WFP-TCD partnership. With a clinical background in speech and language therapy, she has worked in the public health system in South Africa and in Ireland, and is currently collaborating with NGOs working in Ethiopia, India and Iraq on disability inclusion and social integration. Her research addresses participation of people who are frequently marginalised in research and programming, with a specific expertise in supporting inclusion of people with communication disabilities.
Claire O'Reilly is a Research Fellow at Trinity College Dublin and member of the WFP-TCD research partnership team. A Physiotherapist by background, she is a rehabilitation and public health specialist with experience in humanitarian and development settings in Africa and the Middle East. For over a decade Claire has worked in clinical service provision and disability- and health-service related research, focused on injury and disability in conflict and post-conflict settings. Claire serves as a representative of World Physiotherapy to the WHO, and is a Research Affiliate of the Lancet-AUB Commission on Syria.
Samir Wanmali is currently serving as Deputy Director, Programme – Humanitarian and Development Division (PRO) and also oversees the Emergencies and Transitions Unit within that Division (PRO-P). Samir has a broad range of experience within WFP, beginning initially as a Programme Advisor in WFP's Food Security Analysis Service and then serving in several duty stations, including as the Darfur Coordinator in Sudan, the Regional Head of Programme for WFP's Regional Bureau for Asia and the Pacific, and as WFP's Deputy Country Director in Ethiopia. Samir has a B.A in Political Science from the University of Wisconsin-Madison; and M.A. in City and Regional Planning from Cornell University.
John Aylieff has over 25 years of experience with WFP and has held a number of senior management positions in both operations and donor relations. He has served WFP in Rome, Burundi, Bangkok, Brussels, Bangladesh, and Ethiopia. John was directly involved in WFP's response to a number of large-scale highprofile emergencies: the Great Lakes Regional Crisis (1994 - 2001), Afghanistan (2001), Iraq (2003), the Indian Ocean Tsunami (2004 - 2005), Lebanon (2006), and the Horn of Africa Crisis (2011), as well as Ethiopia's (2015 - 2016) El Niño drought response. He has a Masters in Modern and Medieval Languages from Cambridge University in the UK. John led the Human Resources Division at HQ at a critical time of transition for the Organisation before coming to Bangkok, as the Regional Director for Asia and the Pacific.