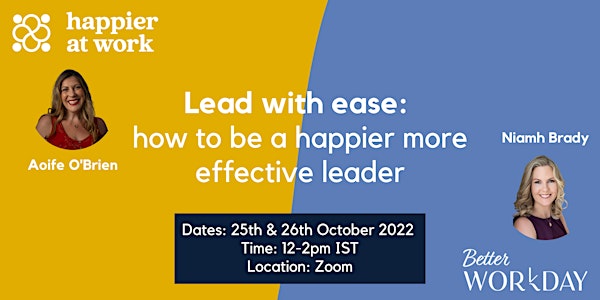 Lead with ease: how to be a happier more effective leader
Let go of overwork and overwhelm to create bigger results for yourself and your team
Refund Policy
Contact the organiser to request a refund.
About this event
Are you consistently working long hours and spending your time firefighting?
Do you do your best to support the well-being and happiness of your team - but struggle to find the time to focus on your own?
Are you worried about burnout?
Join Aoife O'Brien from Happier at Work and Niamh Brady from Better Workday for Lead with Ease, an online workshop specifically designed for people managers.
By the end of the two sessions, you will have strategies and tools to lead well and support your well-being.
Find more time in your day - without working longer hours
Set clear boundaries and expectations at work
Feel confident that you are spending your time on the right activity
Motivate yourself and your team to achieve your goals.
Places are limited to allow space for interaction and reflection.
Topics
Motivation for the self and team
Productivity
Imposter syndrome as a people manager
Boundaries at Work:
Effective Communication
Sign up today
—-----------------------------------------------------------
About the facilitators
Aoife O'Brien is the founder of Happier at Work, a business with the mission to support organisations in retaining top talent. She is passionate about 'fit' and, specifically, how creating the right environment can help individuals to reach their full potential and support organisations to thrive.
Her podcast, Happier at Work, has 50,000 listens in more than 50 countries.
Niamh Brady is a Productivity Coach passionate about improving well-being at work. She is the founder of Better Workday and the author of Remote Working Essentials.
Niamh will challenge you to think differently about how you manage your time, energy, attention and relationships at work so that you can be successful while also supporting your well-being. She provides practical advice and tools that can be applied immediately to improve your workday.