Sales Have Ended
Ticket sales have ended
To book your Free Workshop or to Reserve a Seat to see our Panel of Speakers, visit https://livewelldublin2017workshops.eventbrite.ie
Sales Have Ended
Ticket sales have ended
To book your Free Workshop or to Reserve a Seat to see our Panel of Speakers, visit https://livewelldublin2017workshops.eventbrite.ie
Description
Join Totally Dublin, Psychotherapy Dublin, #WeAreDublinTown and many others for a fun evening of mingling & socializing with a focus on wellness, fitness activity tips, health & nutrition advice.
The event will take place over two floors of the uber cool Chocolate Factory Dublin.
A great panel of Thought-provoking and Inspirational speakers will take to the stage to talk about: mindset, goal setting, healthy habits, fitness, happiness and YOU!
Sign-up to Free Workshops of Aerial Yoga, Meditation, Dance, Mindful Nutrition Tai-Chi and a Drumming circle, to name but a few, in the different areas of the event
- 500 attendees
- 15 + exhibitors
- Healthy Startups Area
- Food & Beverage partners
- Dedicated Free Workshop Room
- Stage 1 watch a series of Live Demo
- Stage 2 Talks & A great Panel of Speakers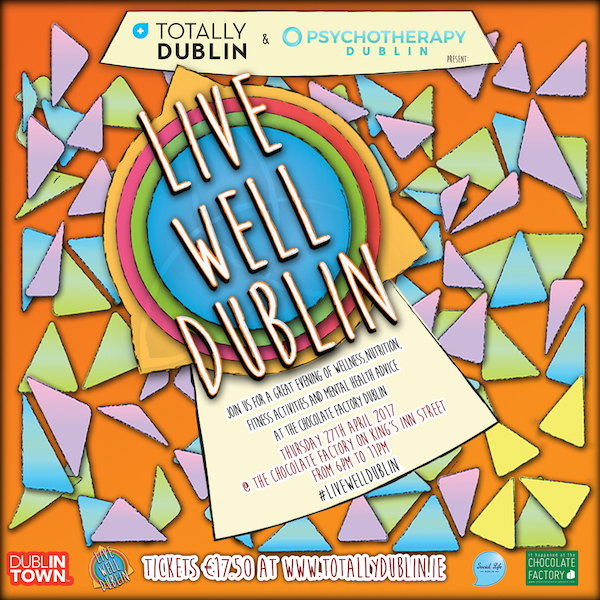 Live Well Dublin is a healthy living lifestyle event bringing awareness to urban dwellers who wish to experience fun ways in which to increase their quality of life.
The evening will consist of a panel of speakers, workshops, demonstrations, and a range of exhibitors. Guests can expect an enjoyable and sociable evening, exploring healthy options that can enrich their busy lifestyles.
We will present a panel of guest speakers covering issues like health, nutrition, wellness and device detox.
* * Limited places for the workshops and to see the Panel of Speakers **
#LiveWellDublin | #TotallyDublin | #WeAreDublinTown
Organiser of Live Well Dublin 2017 - A Healthy Lifestyle Event for the Busy Dublin Urbanite
I'm passionate about bringing people together to connect, to learn, to practice, to teach, to celebrate and to have fun.
I've been running Live Well Dublin since 2016 in partnership with fantastic people and local brands. Live Well Dublin is an entertaining event created from a collection of ideas and suggestions from many friends, colleagues, teachers and professionals working and living in Dublin City.
Totally Dublin Magazine has been the official Media partner of Live Well Dublin and I'm grateful for the support. 
For more information about Live Well Dublin, please visit https://www.facebook.com/LiveWellDublin/
For more about Cleber Silva Visit https://www.linkedin.com/in/cleberpgs/