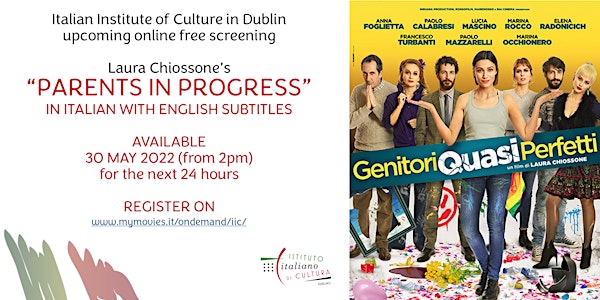 Lunedì al cinema: Online screening of "Parents in Progress"
Lunedì al cinema: Online screening of "Parents in Progress" by Laura Chiossone
About this event
"Parents in progress" is a 2018 movie directed by Laura Chiossone.
Simona (Anna Foglietta) is a forty-year old single mother who lives for her son Filippo (Nicolò Costa). Feeling that she is not up to her role as a mother, organizing the son's eight birthday becomes a catalyst of her insecurities. Torn between the son's wishes and her will to protect him from being judged by others, Simona faces the anxiety of getting everything right for the party.
In Italian with English subtitles
On-line booking on MyMovie website for the IICs CLICK HERE
HOW TO USE:
1. Register by creating a personal profile on the "MyMovies for IIC" website (this registration remains valid for future screenings as well).
2. Access the "MyMovies for IICs" site by entering your profile data and reserve your seat in the "virtual room" for the chosen film (only the IIC Dublin films are visible from Ireland).
3. On the day of the screening, starting from the starting time of the indicator (usually at 2 pm Dublin) the film will be available for viewing and the user will have 24 hours to access the "MyMovies for IIC" site and complete autonomously watching the film.
4. Access is limited to a maximum of 500 admissions per screening.
5. Access is geo-restricted to users connecting from Ireland only.