*This is the official booking link for the Opening Day of the exhibition - Saturday 19th June at 12pm - 6pm.
About this event
Atelier Now Presents:
'Make the world go away' - A Solo Exhibition by Sarah Doyle
Atelier Now is delighted to present 'Make the world go away', a solo exhibition of works by Dublin-based photographer Sarah Doyle. As the first exhibition of 2021 at the Atelier Now Gallery, this show will mark the launch of its annual exhibition programme.
Sarah Doyle is a contemporary photographer based in Dublin. As a graduate of the University of the Arts in London, Sarah's work is playful, feminine, deliberate and ambiguous. Her work questions our relationships with objects and scale, encouraging curiosity of familiar things and questioning our concept of reality.
Sarah will exhibit her newest collection of work entitled 'Make the world go away' at Atelier Now. This series of work was created over a four-year period, which culminated in this collection of intimate, engaging and curious photographic moments that reflect Sarah's unique visual storytelling skills.
--
Booking Notes:
The Opening Day booking time slots are every 30mins, so that we can control the numbers inside and make sure they are in keeping with COVID-19 procedures. You can arrive at anytime during the 30min time that you book for and will be asked for your ticket confirmation at the door.
You do not need to pre-book tickets for attending the exhibition after the open day. The exhibition continues Wed - Sat 10-4pm until Saturday 10th July.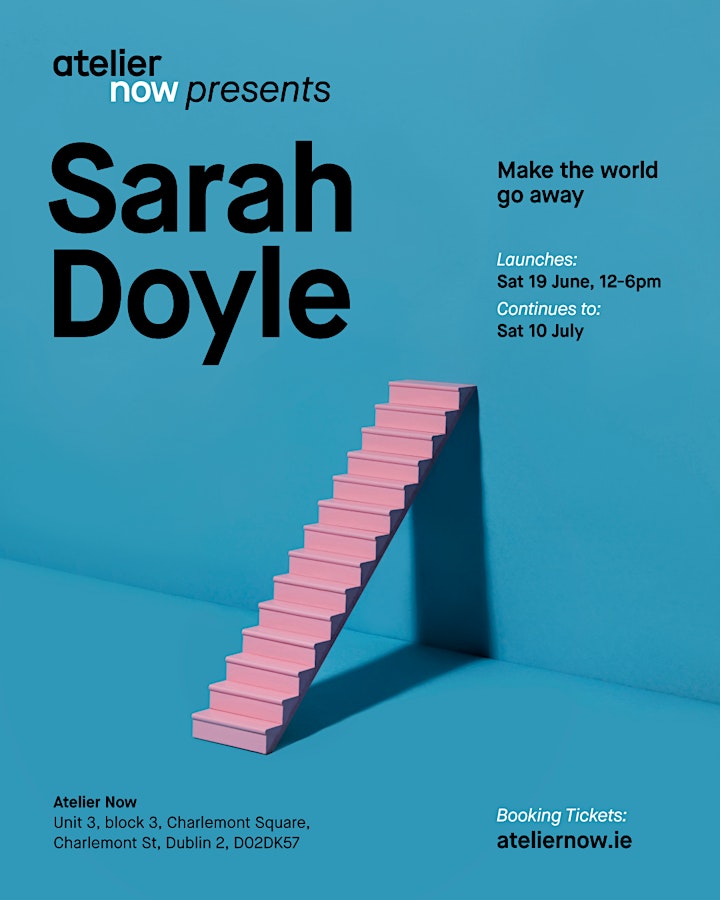 Organiser of 'Make the world go away' an exhibition by Sarah Doyle (Opening day booking)