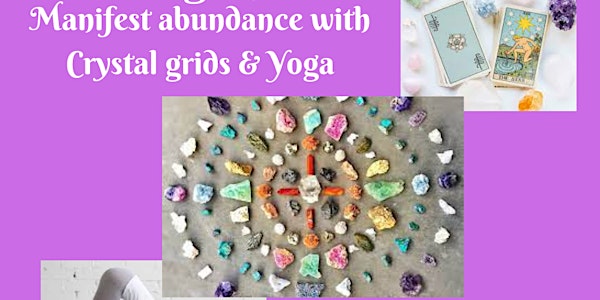 Morning Retreat of Yoga & Manifesting Abundance with Crystal Grids
Morning retreat of Yoga and Crystals with special guest Nicky Dennehy
When and where
Location
Kilbehenny Community Centre Kilbehenny Mitchelstown Mitchelstown Ireland
About this event
What to expect on the day -
Beautiful relaxing Crystal Meditations.
Gentle Summer Yoga session to soothe your body and mind.
Crystal cards for inuitive insights.
Manifesting Abundance with Crystal Grids (Nicky)
The natural energy, frequency and vibration of Crystals make them a powerful manifestation tool. Every Crystal has a unique creative, healing energy which, when combined with specific geometric shapes and patterns, can greatly amplify the manifestation of your Intentions. This is why Crystal Grids can be so effective.
So what would you like to manifest an abundance of in your life? Fun, Joy, Peace, Creativity, Love, Passion, Fulfilment, Prosperity ….
During this session we will create a group Crystal Grid to Manifest Abundance in our lives.
You will learn about the structure of Crystal Grids. You will have an opportunity to set an Intention, create a Crystal Grid, learn which crystals work best with their intention and how to boost the energy of a crystal grid using specific patterns and support crystals
1. What is a Crystal Grid
2. Which Crystals to use and where to place them
3. How to amplify the manifestation energy of your grid
Lunch included. (please make me aware of any special dietary needs).
You will need to bring a Yoga Mat, blanket and Pillow. - Dress is comfy clothes.