Description
Move Energise Glow is Ireland's Newest Wellness Pop Up Event
Move Energise Glow will provide the perfect platform to inspire, motivate & encourage you to get active and excited about your health and fitness for 2018
Our mission is to transform people's attitudes to health + fitness by creating online tools, live events, and build a community to bring likeminded people together to enjoy and experience unique cutting-edge fitness & health events across Ireland.
Move Energise Glow, first event of 2018 is being held in Flanagans seafood resturant and bar. it's an imaginative and exciting style at this local pub. Its the perfect venue for the next wellness event.
Located in the gorgoeus Lahinch, co, clare Hosted by Team Ambassador Gail
What to expect at Move Energise Glow Event
- The day will start with a light Healthy Breakfast & coffee provided on arrival by Gail from @Gailsnutrition
with Teas and Herbal tea available
- Laura Harney, from Lauras's Pilates, will be taking us through an lovely warm up and cool down to start and finish us
-Megan Williams from @moveenergiseglow will take everyone through a bodyweight workout which is suitable for all levels of fitness, with killer tunes, fun vibes to get you feeling great!
- Followed by a sports specific yoga session from Julie at @wholefoodsandyoga
- Excited to be shown some Crossfit techniques class (for beginners) with Paul Dunne from @LifeFit gym
- Provided with some Lovely Goodie Bags to take home from leading local irish brands
- WHOS COMING?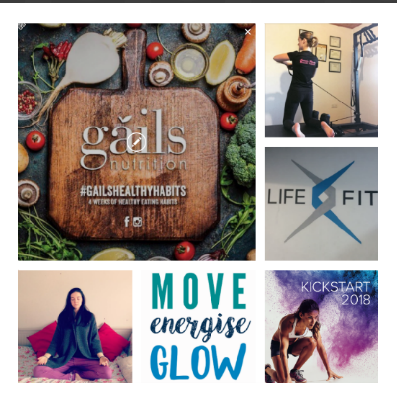 Feeling Peckish?!
Be sure to bring your appetite and indulge in all the wellness pop up has to offer. Arrive hungry and prepare to be wowed with a light breakfast and coffee prepared by Gail's Nutrition. There will be snacks and smoothies available between sessions also.
With a chance to purchase Gails nutrition booklets /Megans Training guides to help you reach your health goals for 2018!!
The Goodies
Each attendee will be treated to a fabulous goodie bag to take home
Instructors
Megan Williams

Megan plays International Rugby for the Irish women's Rugby team, she is a health and fitness blogger with the aim to inspire, inform and motivate a healthier happier you. Megan will be taking you through a full body workout aimed for all fintess levels. Megan also is the creator of Move Energise Glow Events.
What is a Move Energise Glow class?
Move Energise Glow class is an energetic, upbeat class that is sure to get your body moving, feeling energised and give you that happy glow! A great workout for all levels to enjoy an exciting, motivating class. Megan combines cardiovascular training, strength and toning exercises, for a total body workout to give you a fun, enjoyable exercise experience.
Laura Harney
Pilates

This session will give us the opportunity to delve into music and mindfulness, stretching the body out, finding connection and ease whilst relaxing the mind and opening up to the wonderful environment of Move Energise Glow Festival. Laura will be taking us through a warm up and cool down
Whats involved in this Pilates class?
Laura will be providing A movement fusion designed for our creative community of like-minded people. We bring people together on their mats to move, breathe and connect. mindful gatherings filled with music, movement and good vibes.

Julie Hyde
Yoga
Sport inspired Yoga session . Join Julie for a morning of complete sport inspired yoga class with a mix of slow movements and deep breaths with lots of opportunity to set your positive intentions for the year ahead
Paul Dunne
Crossfit
LifeFit is dedicated to providing classes that are as accessible to a beginner or regualr trainer. Crossfit training is the perfect combination of resistance and cardio training and is ideal for people of all ages and fitness levels, particularly those interested in increasing strength, functional fitness, power and flexibility.
What a Fun filled day planned to KICKSTART 2018, The day is designed to give you an opportunity to dip your toes into a variety of workouts and perhaps try something new, a comfortable, welcoming enviroment we cant wait to see you there!
Tickets
Tickets are priced at €40 (included eventbrite fee) and are available on Eventbrite. Doors open for registration at 09.40am please arrive nice and early to sign in so we can get started for 10am. This is a ticketed event, please register at the front desk with the the name you booked your ticket with. There is no reserved seating, or mats just grab a spot when you arrive! Please bring your won mat.

For any queries please contact Megan on moveenergiseglow@gmail.com

Food
Flanagan's will be providing a wonderful lunch on offer for only €12.00 with 4 options to choose from! We can dine and wind down, relax and enjoy the atmosphere after a great day.
FAQ
Will I need to bring a Yoga Mat?
Yoga Mats are not provided so we encourage you to bring your own mat for this event.
Where do we sign in on the day?
There will be a Move Energise Glow Rep at the front desk, please sign in there with your ticket and you'll be shown to the meet area
What will I wear ?
Please wear something you feel comfortable doing light exercise in
Will I need to bring a drink ?
Water is available at the venue, and teas and coffee will be provided. If you have a water bottle I would advise to bring with for the classes.
Will there be Parking?

Yes there is a car parking available