Music Generation dlr invite you to join Rock Jams Sebastian for Drum Shorts - Rhythm Games! No Drumming experience required!
About this event
Drum Shorts is all about keeping it simple – and short! Sebastian believes that Rhythm is for everyone, whether you own a drum kit or not! So if you are interested in drums, percussion or just want to learn how to use household objects to make music.
This work is supported by Dún Laoghaire-Rathdown County Council and funded by Creative Ireland as part of Cruinniú na nÓg 2021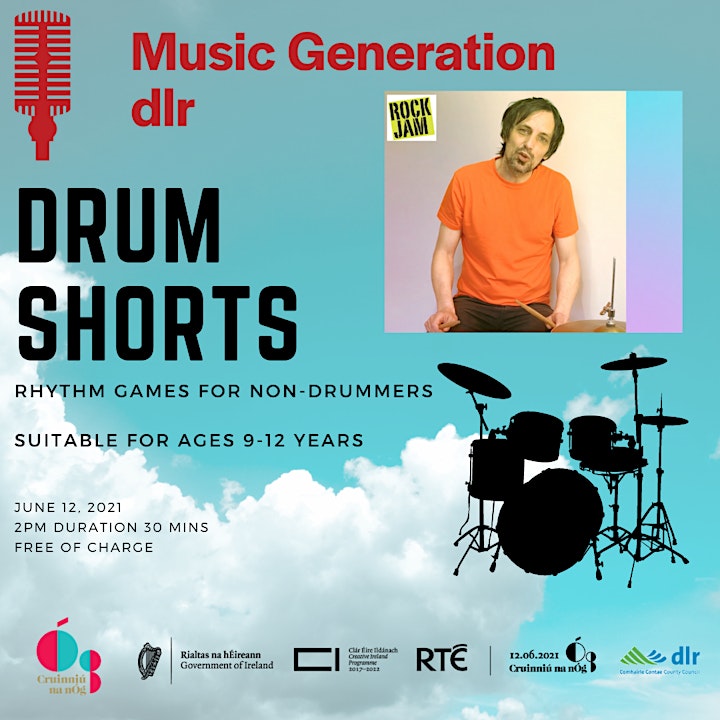 Organiser of Music Generation dlr presents: Drum shorts: rhythm games for non-drummers
In September 2017, Music Generation dlr was selected for participation in Music Generation, Ireland's national music education programme initiated by Music Network and co-funded by U2, The Ireland Funds and the Department of Education and Skills and Local Music Education Partnerships. Locally, Music Generation DLR is managed by DLR Music Education Partnership (MEP), led by DLR County Council in partnership with Dublin and Dún Laoghaire Education and Training Board, TUSLA, Southside Partnership DLR, Blackrock Education Centre, IADT, UCD and Crosscare.