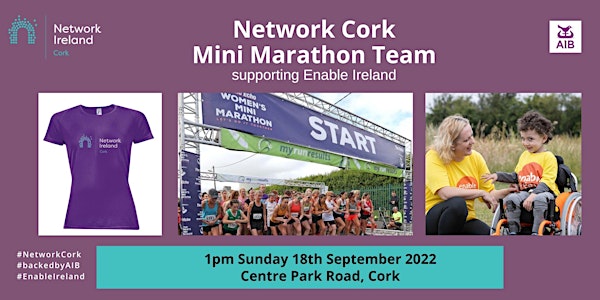 Network Cork Mini Marathon Team 2022
Join Network Cork at The Echo Mini Marathon on Sunday, 18th of September at 1pm and support Enable Ireland's new children's centre.
When and where
Location
Centre Park Road Centre Park Road Cork Ireland
About this event
The 41st Annual Echo Women's Mini-Marathon starts on Centre Park Road, Cork at 1pm on Sunday, September 18th 2022 and Network Cork would like you to `join our team. An exciting, social event with no pressure to run, just take the course at whatever pace you'd like. Enable Ireland is our chosen charity for 2022. All funds raised will go towards the development of Enable's new children's centre in Curraheen. This team is for members only.
To ensure we are in top form, we are delighted to have two members who will give us advice ahead of the event. Thanks to Gillian O'Sullivan, Personal Trainer, and Rosaleen Mackeown, Run With Ros, who will be providing us with some very helpful tips along the way.
Wait, there's more... we have specially commissioned Network Cork t-shirts on order for all of those who sign up for the event and a team photo on the day!
What else do you need to know? Well, before you register here, you have to register first with the Mini Marathon people themselves. Without your registration number, you will not be able to participate on the day! Register here: https://www.njuko.net/echowomensmini2022/register/86931 After registering you will automatically receive an idonate link. DO NOT click this link unless you want to fundraise as an individual and set up your own account. The preference is to fundraise by sharing the team idonate account which we will share with you after registering.
Finally, a message of encouragement from a fellow Network Cork member, Elena Canty. "On a personal note, I'd love if you could come on board to support Enable Ireland. As you may know I was born with osteogenesis imperfecta or many people may know it as brittle bone disease. As a child, I attended the Enable Ireland Lavanagh Centre and had physiotherapy and hydrotherapy to strengthen my muscle tone. I used to look forward to attending swimming in the hydrotherapy pool every Tuesday after school with my Mom. I also availed of ophthalmology, psychotherapy and occupational therapy there. The expertise of the staff meant that I was able to receive excellent care and support to enable me to live my best life. There was a great team of people who were always there to support me in any way possible on my journey to independence. I received great support from Gerlene in the OT Department who challenged me to reach my fullest potential independence-wise, and this proved to be life changing for me. As a service user, I was always encouraged to focus on my abilities rather than my disability. I couldn't praise Enable Ireland enough for all their support and guidance during my childhood."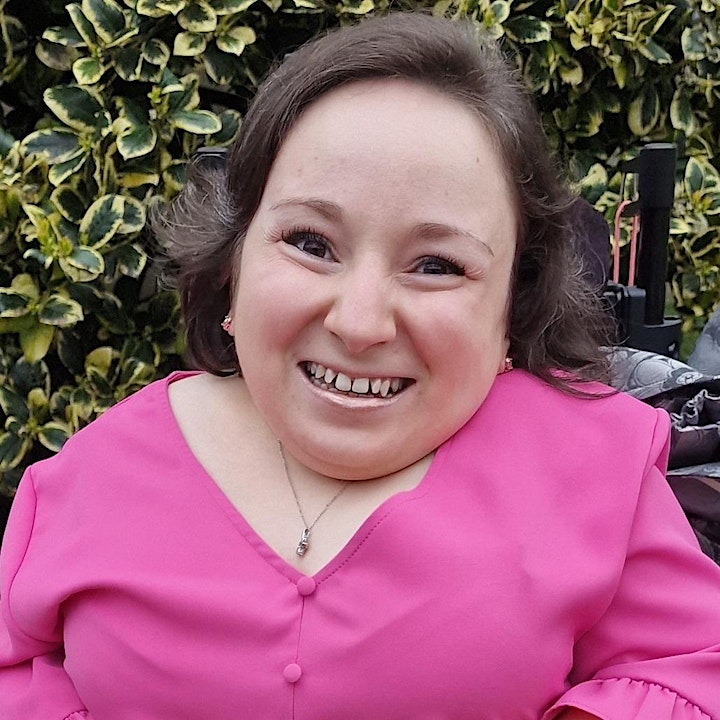 More about Enable Ireland
Enable Ireland has provided disability services in Cork for nearly 70 years. In 2016, whilst based in the Lavanagh Centre, Ballintemple, it launched an ambitious campaign to raise €7.5m to develop a new children's services centre in Curraheen. Enable has had great support and at present has just under €300K left to raise to complete the funding on this new capital project which opened in 2019. Whilst the video needs to be updated with the latest figures, you can see the overview of the development there.
Traditionally, the charity provided services to children with physical disabilities but now it provides services to children with intellectual disabilities also. Enable Ireland has three Children's Disability Network Teams based in the new site in Curraheen. These teams provide supports and services for children, young people and their families from birth to 18 years with complex disabilities. Services and supports provided include physiotherapy, occupational therapy, speech and language, psychology and social work. The new campus also houses a hydrotherapy pool and respite house for children and young people. Your support would be much appreciated as we build a brighter future for children with disabilities in Cork.
Again this year, Enable Ireland has been awarded 'Triple Lock' status by the Charities Institute Ireland demonstrating its commitment to best practice in all aspects of transparent reporting, ethical fundraising and good governance.