Description
---
Every day's a school day....
For our November event, we are delighted to partner with Network Cork member Cork Institute of Technology and offer a morning of learning, networking and development. The variety and content of these 12 workshops have been designed to faciliatate a broad range of personal and professional interests within our membership cohort. The workshop providers are all experts in their respective fields and we are excited to collaborate with them on this event.
You are invited to avail of two x 45 minute workshops on a fully complimentary basis and you may then select a further two x 45 minute workshops at a heavily subsidised member rate of €25 per workshop/€50 in total. This shall result in a very valuable half day of enhanced learning for you and your business plus the opportunity to network and to then join your fellow members for an optional add on lunch in the training restaurant in CIT.
Due to limited capacity, this event is exclusively for registered Network Cork members only. Please be advised that each workshop has a maximum of 25 attendees and advance booking is essential. Please see further information below on how to book your preferred workshops.
Please Note: This event will take place at the Melbourne Building on Rossa Avenue.
Our Workshop Wednesday In Brief: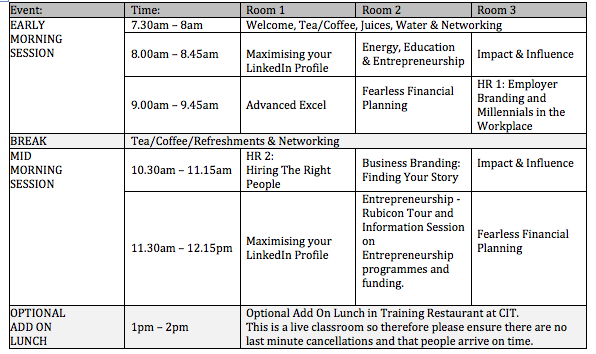 Our Workshops & Workshop Experts in Detail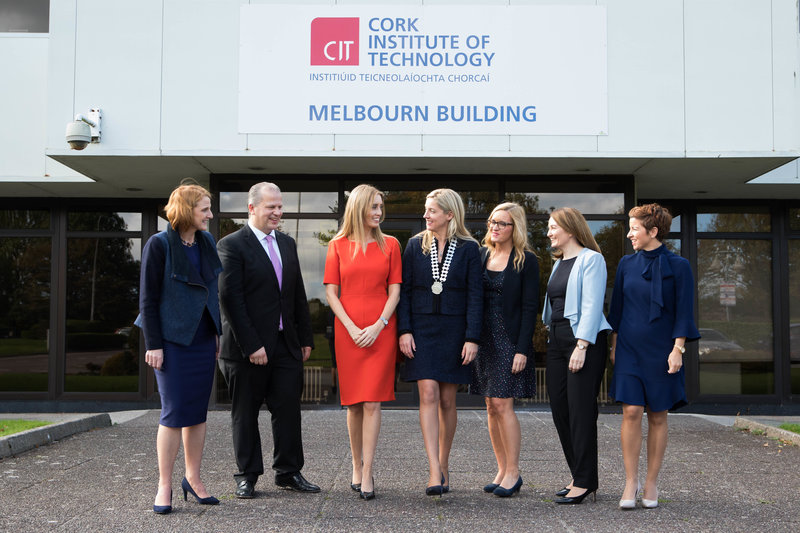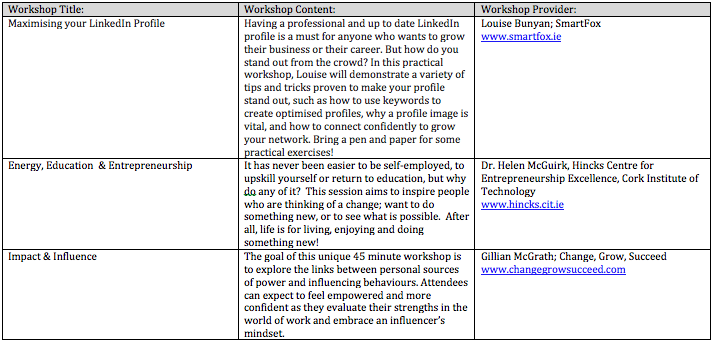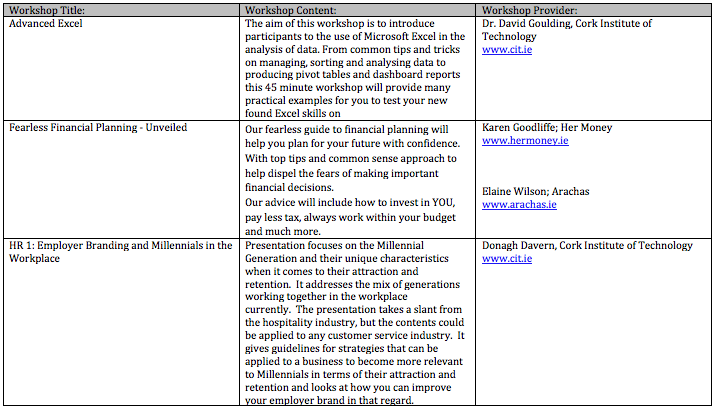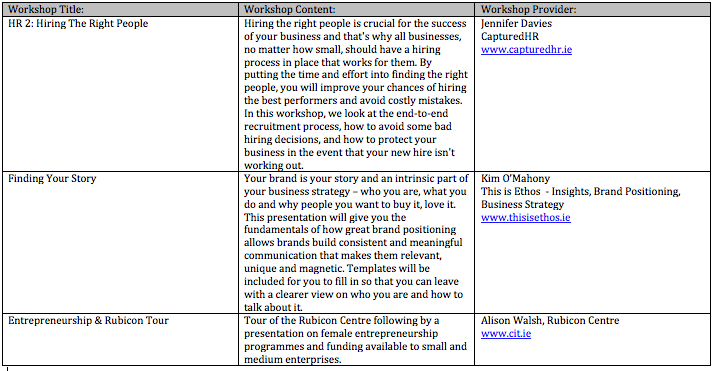 How To Book:
Please register for both the Early Morning free workshops and for the Mid Morning subsidised sessions. Then select your preferred workshops within each session. If you are interested in joining for the subsidised 3 course lunch afterwards, please select this also at this stage as there is very limited capacity.
Please keep in mind that there is also limited capacity for each workshop and that places shall be offered on a first come, first served basis. We will endeavour to allocate your preferences but in the event that your chosen workshop is already full, we shall contact you to offer an alternative.
Once all places have been filled and workshops allocated to all attendees, you will receive full confirmation of your assigned workshops.
Any queries please contact Network Cork on info@networkcork.com
Photography/Recordings:
Please be advised that we do record our events with photographs and occasionally via video. Livestreaming may also take place. These materials may be used by Network Cork and included in publications, media materials, promotional materials, digital platforms and social platforms. If you do not wish to appear in any images captured, please contact a member of the Network Cork committee on site. We can then take appropriate steps to comply with your wishes.