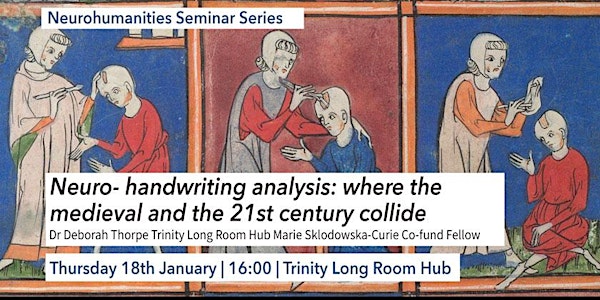 Neuro-handwriting analysis: Where the Medieval and the 21st Century Collide
Location
Trinity Long Room Hub,
Fellows Square
Trinity College
Dublin 2
Ireland
Description
This multi-disciplinary talk combines historical and digital approaches, investigating clues about neurological diseases and disorders in medieval handwriting. Electronic engineers Professor Stephen Smith and Dr Márjory Da Costa-Abreu join palaeographer Dr Deborah Thorpe to digitally-excavate the lost dynamic features of writing in static samples of medieval writing.
A combination of digital microsensors and ink distribution analysis is employed, attempting to answer a range of questions such as: 1) what type of tremors can we see in medieval handwriting, 2) how can we recover the speed and fluidity of the writing process, when the writer him/herself is long dead? and, 3) how might these historical approaches relate to the diagnosis of patients in neurology clinics today? Throughout, this exploratory work benefits from practical insights and expertise given to the research team by calligraphers
This lecture is presented by Dr Deborah Thorpe (TCD), Professor Stephen Smith (University of York), Dr Márjory Da Costa-Abreu (DIMAp/UFRN, Brazil) as part of Trinity's Neurohumanities Seminar Series 2017 - 2018. Supported by the Wellcome Trust Institutional Strategic Support Fund (ISSF).

Bios:
Dr Deborah Thorpe is a Trinity Long Room Hub Marie Skłodowska-Curie Cofund Fellow. Trained as a palaeographer and a medical historian, she uses a combination of historical handwriting analysis and neurological insight to analyse the impact of ageing and age-related medical disorders on medieval script.

Professor Stephen Smith is a professor in the Department of Electronic Engineering at the University of York. His research is centred on developing evolutionary algorithms, a form of artificial intelligence, and applying them to the diagnosis and monitoring of neurological conditions such as Parkinson's through the analysis of patients' movements. Stephen is also co-founder and director of ClearSky Medical Diagnostics Ltd., a university spin-out company set up with the assistance of the Royal Academy of Engineering that markets clinically validated medical devices, developed from his research. Stephen is a Chartered Engineer and a Fellow of the British Computer Society.

Dr. Márjory Da Costa-Abreu is a lecturer in Artificial Intelligence at DIMAp/UFRN. She has a PhD in Electronic Engineering from the University of Kent (UK) and a MSc in Computer Science from UFRN (BR). She has experience in Biometrics analysis and identity prediction, forensics, the effects of ageing in biometrics and soft-biometric prediction techniques.