NO COLLUSION, Screams from the Attic & more @ The Taproom, Drop Dead Twice
About this Event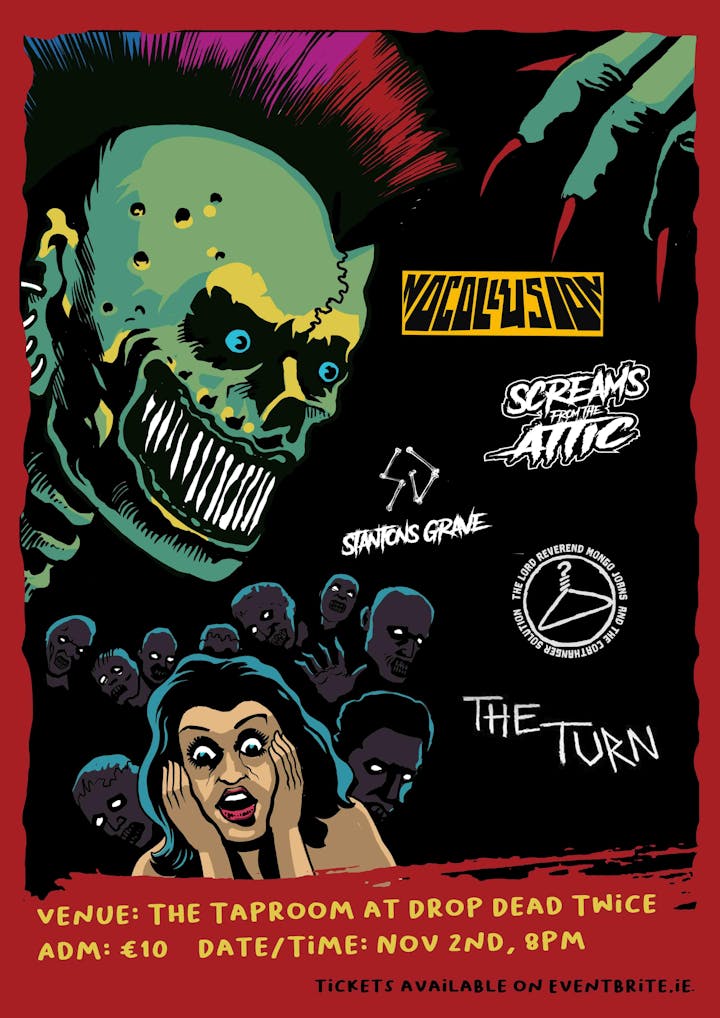 Join us for a night featuring some of Ireland's best punk bands all under one roof! We've got a little something for everyone whether you're after OI! Horror, Hardcore and even organic free range punk!
NO COLLUSION (Derry) - NO COLLUSION are a three punk band based in Derry, Northern Ireland. Together just over a year, they have supported bands like Cockney Rejects, Casualities, Paranoid Visions, Interrobang (Ex. Chumbawamba members) and will be supporting IDLES frontman Joe Talbot this coming December. They released their debut E.P ''Sticking Sets'' in May this year and their debut music video for their single ''Aw Naw'' has already reached over 40k views!
https://www.facebook.com/NOCOLLUSIONBAND/
https://www.youtube.com/watch?v=y76O516a7x0
Screams From The Attic (Cork)- a Cork based horror punk band playing some of the most macabre punk you've ever heard...Crawling out of their coffins to bring you a selection of horror punk originals, a slew of Misfits classics and a few surprises along the way!
https://www.facebook.com/screamsfromtheattic/
The Turn (Limerick)- Joining us from Limerick, bringing some spooky hardcore punk with them as well as tips on the best Netflix payment plan going, it's going to get crazy!
https://www.facebook.com/theturnireland/
Stantons Grave (Cork) - Cork's hardcore punk masters are just out of the studio and ready to drop some crushing riffs on you all!
https://www.facebook.com/stantonsgrave/
The Lord Reverend Mongo Joans and the Coat Hanger Solution (Dublin) - Organic, free range punk, offending your sensibilities since 2017!
https://www.facebook.com/MongoJoansBand/
Tickets: €10
Time/Venue: 8PM, Sat Nov 2nd @ The Taproom @ Drop Dead Twice