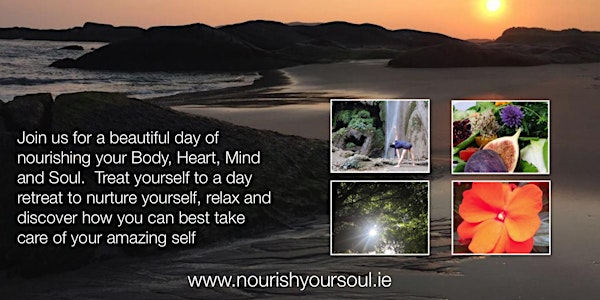 Nourish Your Soul - One Day Retreat
When and where
Location
Tracton Arts and Community Centre . Minane Bridge Ireland
Refund Policy
Contact the organiser to request a refund.
Description
Nourish Your Soul - One Day Retreat
Join us for a beautiful day of nourishing your Body, Heart, Mind & Soul through:
Breath awareness, Mindful Meditation and Yoga

Creative cooking exploring nourishing and healing recipes and a Delicious meal shared with all

Discovering how well we listen to our bodies, emotions and our intuitive wisdom
About us

Nourish Your Soul is a collective of 4 like minded individuals who have come together to combine the best parts of what they do to create a unique event focused on Nourishing your Soul.

Steph: Steph is a Relationship and Communications Mentor. She also posts her daily reflections and thoughts on SoulSus social media platforms. "I believe we are all always communicating with ourselves through our feelings, our bodies and our intuition, but we may not always listen. Developing our listening skills is an integral part of honest communication and deepening our relationships".
Fabiola: Fabiola trained as a Contemporary Dancer and then became a Yoga, Pilates, Fitness instructor and Personal Trainer. "Yoga is a great discipline to teach you how to balance, strengthen and explore flexibility and movement. The word Yoga means 'Unit', it invites you to experiment and work with your whole body altogether. I deeply believe in acceptance, kindness, respect, understanding and love for ourselves and others".

Fanny & Tara:
Fanny is a vegan chef and nutritional cooking advisor with a passion for creating delicious food which maintains physical, mental and emotional health.
Tara is a Nutritional Therapist, practicing as Root Health Nutrition, and has always been enthusiastic about the art and science behind healing through food.

Together they are The FoodRemedy. "We are passionate about food; really good food that nourishes and heals. Our great intention is to inspire and ignite a love of real food, get creative in the kitchen and help people to find their own unique journey to wellness".


The Venue
The Beautiful Tracton Arts & Community Centre, Minane Bridge, Cork

For more information see our website http://www.nourishyoursoul.ie/Home.html
or