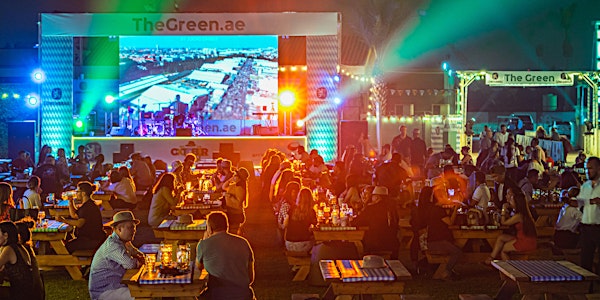 Oktoberfest.ae 2022
Oktoberfest.ae returns to Abu Dhabi with the biggest and most authentic annual Bavarian celebration. Reserve Your Pass & Tables Today.
When and where
Location
TheGreen.ae Abu Dhabi City Golf Club 19th St - Shakhbout Bin Sultan St Abu Dhabi, Abu Dhabi United Arab Emirates
About this event
WILLKOMMEN ZUM OKTOBERFEST.AE!
It's almost that time of the year again when festive folk embrace their inner German and look forward to the return of Oktoberfest.ae. Experience 11 HUGE festival days taking place from the 27th October - 6th November 2022 at TheGreen.ae, Abu Dhabi's superb new biergarten at Abu Dhabi City Golf Club
ABOUT:
Oktoberfest.ae is Abu Dhabi's largest authentic Oktoberfest which will take place in a superb Bavarian-Garten at TheGreen.ae starting from the 27th October - 6th November 2022.
LOCATION:
Oktoberfest.ae at TheGreen.ae, Abu Dhabi City Golf Club
19th St - Shakhbout Bin Sultan St., Abu Dhabi Click Here For The Location
ENTERTAINMENT:
Only the very best Oompah Brass Bands are good enough for Oktoberfest.ae! The festival will host a hugely popular 5-piece authentic Bavarian brass band every night including some Saturday brunches. Get ready to be entertained with their toe-tapping, thigh-slapping, oompah entertainment with a mix of traditional folk fair, classic party favourites along with plenty of games and giveaways throughout each night.
Please note the Bavarian Band will be off duty on Monday 31st October, Halloween Night. We will still be open with some amazing beverage offers.
OPENING HOURS:
Sunday to Thursday 3:00PM - 12:30AM
Friday 3:00PM - 1:30AM
Saturday 3:00PM - 1:30PM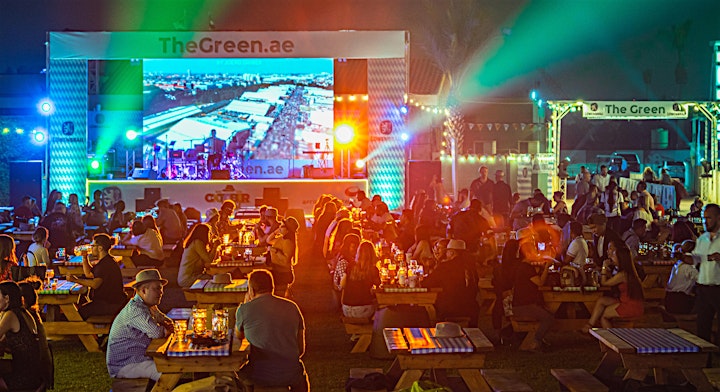 FOOD & BEVERAGE:
Guests can indulge in official Oktoberfest brews specially imported to the UAE from Munich, an extensive selection of delicious traditional Bavarian cuisine including popular festive foods like a selection of traditional bratwursts, rotisserie chickens, sharing platters, salads, freshly-baked pretzels, gingerbread hearts, apple strudel and much more popular festival favourites.
All foods are typical German folk festival fare guaranteed to tantalise your taste buds so make sure to check out our menu, which will be available soon. Gluten Free / Vegetarian options available. Table service will be provided throughout by our fun and friendly staff dressed in traditional Bavarian costumes - Lederhosen or Dirndl.
____________________________
ENTRY & TABLE RESERVATIONS:
We strongly recommend to reserve your pass or table reservation in advance for Oktoberfest.ae. It's easy to reserve with no prepayment required so please book now to avoid disappointment as there is limited availability on some passes. See the choice of passes below.
____________________________
★★★
FREE EARLY ENTRY PASS
(MAX 2 FREE PASSES PER EMAIL ADDRESS)
RESERVE NOW / ARRIVE EARLY
This year we are again offering hundreds of FREE Passes for each night of the festival - we expect these limited quantity to disappear fast so please (schnell schnell - quick quick) register your FREE Early Entry Pass today.
Each FREE Early Entry Pass permits FREE ENTRY all night with an online reservation. Sunday'sFREE
Each Each
Each night there will be a limited number of unreserved tables available for FREE on a first come first serve basis so please arrive early to avoid disappointment.
PLEASE NOTE: You can claim a maximum of 2 FREE EARLY ENTRY PASSES per email address for each date. Please get friends or colleagues to book separately.
____________________________
★★★★
TABLE RESERVATIONS
RESERVE NOW / PAY LATER
(includes entry for up to 8 persons)
The best way to experience Oktoberfest.ae is to secure guaranteed table reservations for you and your friends/colleagues. Each reserved table entitles FREE ENTRY for up to 8 guests, with tables positioned in the best areas, receiving plenty of freebies as well as table service throughout the night - please arrive early to avoid disappointment.
Table Reservation are available to reserve at a discounted price of AED 100 This Table Reservation ticket includes;
1. entry for up to 8 persons at any time during the night
2. guaranteed table reservation for up to 8 people
3. includes a FREE beverage each on entry before 7:00PM on Sunday's - Thursday's.
4. Arrive early as we give out lots of freebies every night.
PLEASE NOTE: Table Reservations are held up until 8:00PM. If nobody from your table reservation shows up, you may likely lose your table reservation. The earlier you arrive, the better seats and freebies you get.
____________________________
FREE FAMILY PASS - SUNDAY ONLY
RESERVE NOW / ARRIVE EARLY.
Only for Sunday afternoons we will have a limited amount of FREE Family Pass Reservations available. Family passes are available soon.
____________________________
Email info@oktoberfest.ae Or WhatsApp Us Now For Group Booking Enquiries (Over 16 people).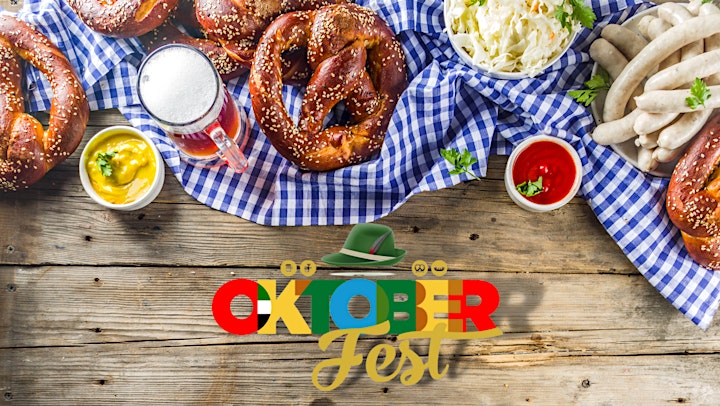 To optimise speed of service our event is cashless - All major credit cards will be accepted. We are proud to offer superb value for food and beverages throughout the event. We will have great Happy Hour Deals and Group Offers available.
Our event is Strictly Over 21's with the exception of Sunday FREE Family Passes valid until 8:30PM.
Dust off your dirndl, strap into your lederhosen, gather your Freunde und Colleagues, make sure to let your friends know and join us at Oktoberfest.ae on 27th October - 6th November 2022 at TheGreen.ae located at Abu Dhabi City Golf Club.