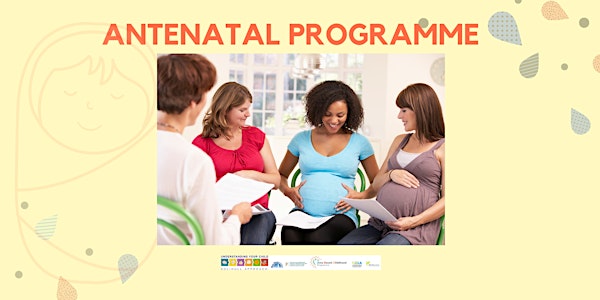 Multiple dates
Online Antenatal Programme
This online group supports expectant mothers by providing practical and emotional support through pregnancy, birth and the postnatal period
By Blue Skies Initiative Area Based Childhood Programme
Date and time
Wed, 2 Feb 2022 04:00 - 05:30 PST
About this event
A 6 week Solihull Antenatal programme called Understanding pregnancy, labour, birth and your baby
Aim of the group is to be a friendly and relaxed space where you get the chance to connect with other pregnant women in your local area and provide a space to reflect on your feelings about pregnancy, labour and becoming a parent.
This course will also help you
• To think about support that will be helpful throughout the pregnancy and birth
• Get to know your baby in the womb
• Understand how the baby is developing in the womb
• Understand information about pregnancy, labour and birth
• Understand the importance of your emotional relationship with their baby.
It is recommended that the mother should be between 26-34 weeks pregnant at the date of session one.
This programme is free for expectant parents living in the Clondalkin, Balgaddy and Adamstown area.
Dates:
Feb 2nd 12- 1.30pm
Feb 9th 12-1.30pm
Feb 16th 12-1.30pm
Feb 23rd 12-1.30pm
March 2nd 12-1.30pm
March 9th 12-1.30pm
All sessions will take place on zoom.
Any further questions please contact Mary at mmccarthy@archways.ie
About the organiser
Blue Skies Initiative Area Based Childhood Programme
The Blue Skies Initiative is the name of the Consortium in the Clondalkin and Adamstown, under the Area Based Childhood programme (ABC). The ABC Programme is an innovative prevention and early intervention initiative consisting of committed funding for an area-based approach to helping to improve outcomes for children by reducing child poverty. The initiative is managed locally by the Consortium which is made up of members from several statutory and community organisations in the area and is led by Archways. The Blue Skies Initiative is designed to improve the overall wellbeing for children and families in the area.
The focus of the work under the ABC Programme covers in the main:
Child Health & Development

Childrens Learning

Parenting

Integrated Service Delivery
Areas are implementing a range of programmes and services in a variety of settings including schools, early years settings, and in the home. Emphasis is being placed on enhancing interagency collaboration to ensure services being delivered are timely, accessible, and have the potential to become mainstreamed.