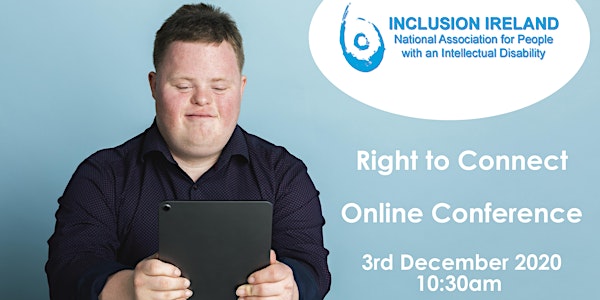 Our Right to Connect
Our Right to Connect Conference: People with a disability in Ireland sharing stories about using technology to stay connected.
About this event
Inclusion Ireland is delighted to take our annual conference Online on Thursday 3rd December - the international day for people with disabilities.
Inclusion Ireland is a national, rights-based advocacy organisation. We work to strengthen the voice and promote the rights of people with an intellectual disability. The United Nations Convention on the Rights of Persons with Disabilities (UNCRPD) guides our work.
In this conference, people with a disability in Ireland, will share their stories and learning about how they are using computers, phones and the internet in new ways to
Chat with friends and family
Tell stories by taking pictures and making videos
Learn new skills
Stand up for their rights
Much of this work and learning is being supported by services. Because of the isolation caused by Covid 19, this work has now become even more important.
The presentations and talks will be led by self-advocates from across the country and we hope this event gives us all an opportunity to learn from each other.
On Tuesday 1st December at 11 am, we will be giving people an opportunity to test the conference link and make sure that they can connect up with us by Zoom. You can sign up for this "Zoom support" when you are registering.
We aim to make sure that the platform is fully accessible and we would appreciate if you could let us know if you have any additional support requirements. 
We look forward to welcoming you on Thursday 3rd of December 2020 at 10:30am on Zoom 
Thanks again and don't forget to keep in contact, keep posting and sharing.