Description
One of the first things you should check when investigating performance issues are wait and latch statistics, as these can often point you in the right direction for further analysis. Unfortunately many people misinterpret what SQL Server is telling them and jump to conclusions about how to solve the problem - what is often called 'knee-jerk performance tuning'.
In this full-day workshop, you'll learn how to investigate and interpret wait and latch statistics - practical techniques you can take home and start using immediately. You'll also learn what a myriad of wait and latch types actually mean and how you can investigate lightly-documented types to gain insight into what causes them. Don't waste time when it comes to performance troubleshooting; wait statistics are the fastest route to understanding your problems and this workshop will help you get there faster.

Paul Randal (blog | twitter) Paul's an author, consultant, and top-rated speaker having spoken at PASS, TechEd, SQLintersection, and numerous other events around the world. He spent 9 years working on the SQL Server team, writing DBCC CHECKDB, and ultimately responsible for the entire Storage Engine. In 2007 Paul left Microsoft to co-own and run SQLskills.com, and has been a SQL Server MVP ever since. When he's not tweeting, blogging, or helping someone recover from a disaster, he's likely to be underwater somewhere in the world with his wife, Kimberly L. Tripp.



Schedule

Registation is from 08:15am

Class is from 9:00 to 18:00 with coffee breaks and lunch
Organiser of Performance Troubleshooting Using Waits and Latches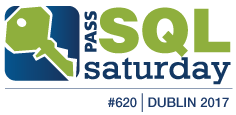 SQL Saturday Dublin (Web | Twitter) is Irelands largest Annual SQL Server event with over 600 registrations each year, with some of ther best speakers and sponsors from the SQL Industry across the globe. 
It is a non-profit community event with any funds raised on training days used to pay for speakers and finance the FREE SQL Saturday event on June 17th, 2107 at Trinity College Dublin. Whether you are attending a training day, please register early and let your friends and colleages know.
http://www.sqlsaturday.com/620