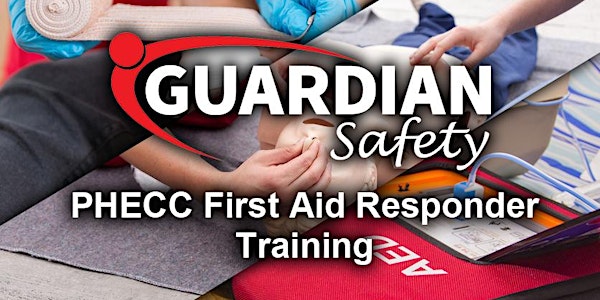 PHECC First Aid Responder Refresher Training (2 day) January
Event Information
Location
Guardian Safety
Unit C1 Centrepoint Business Park
Oak Drive
D12 XK77 Dublin 12
Ireland
The course is specially designed as a refresher for individuals who have previously finished the PHECC FAR course or OFA QQI courses
About this event
Grace Period
Learners are entitled to the relevant grace period for the award they currently hold.
If a learner currently holds an OFA certificate or an in-house OFA Refresher certificate, then they are entitled to the 90-day grace period. Any learner out of date will have to attend the full PHECC FAR course.
For OFA you have a 90-day grace period from the expiry date on your QQI training certificate
If a learner currently holds a FAR certificate, then they are entitled to the 30-day grace period. Any learner out of date will have to attend the full FAR course.
Course Programme
First Aid in the workplace: legal requirements and the role responsibility of the First Aider
Patient Assessment: Primary survey, vital signs, spinal and head
Respiratory Emergencies
Cardiac First Response: The chain of survival calling for an ambulance, starting CPR and using a Defibrillator.
Wounds and Bleeding: Bleeding control, fractures/strains/sprains
Common medical emergencies asthma / seizures / epilepsy / overdose / poison / angina / heart attack / diabetes / sepsis.
Altered levels of consciousness on how to treat shock and the recovery position. Treating a casualty with loss of consciousness.
Alergies: mild, moderate and severe
Musculoskeletal Injuries: treatment of broken bones, sprains, strains, and dislocations.
Burns and scalds, chemical burns, electric shock: causes and treatment of burns,
Shock
Harness induced trauma (Where required)
Hyper/hypothermia
Assessment
20 multiple choice questions MCQ's
5 practical skills assessments compression/ haemorrhage control/CPR/vitals/ Musculoskeletal injuries/cardiac assessment.
An assessment takes place at the end of the third day. There are practical and theoretical elements of the assessment.
Participants complete a multiple-choice examination paper and undertake skills assessments.
In order to be successful, participants must achieve a mark of 60% or greater in each element of the assessment.
Successful completion of the First Aid Response course leads to certification (ONLY) PHECC. All successful participants will receive a certificate which is valid for two years.
Re certification in First Aid Response is required every 2 years.
Date and time
Location
Guardian Safety
Unit C1 Centrepoint Business Park
Oak Drive
D12 XK77 Dublin 12
Ireland