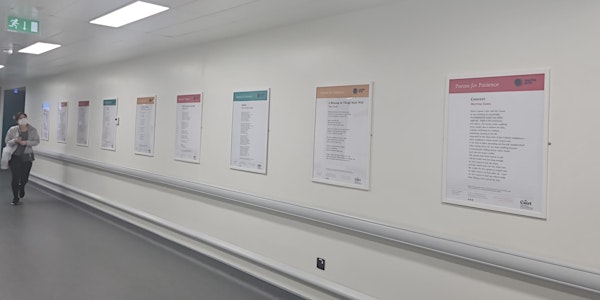 Poems for Patience Launch
Poems for Patience launch in partnership with Cúirt International Festival of Literature. Introduced by Paul Maddern & Susan Millar Dumars.
Date and time
Tue, 18 Apr 2023 12:30 - 13:30 IST
Location
University Hospital Galway Newcastle Road H91 YR71 Galway Ireland
About this event
Poems for Patience is a long running series which over the past nineteen years has featured poems by leading Irish and international poets such as Seamus Heaney, Philip Schultz, Jane Hirschfield, Michael Longley, Naomi Shihab Nye, Vona Groarke, Tess Gallagher and many more. The poems, after exhibition on the Arts Corridor in University Hospital Galway, are then displayed in waiting areas throughout Galway University Hospitals and in 2023will also be distributed to our public hospitals in Ballinasloe, Castlebar, Roscommon, Sligo and Letterkenny.
Saolta Arts is hopeful that the poetry disseminated throughout the hospitals will give people pause for reflection and space for hope in both those joyful celebratory moments as well as the all too often times of pain or worry. This year Poems for Patience will be selected and introduced by poet Paul Maddern.
In recent years Saolta Arts have also run a poetry competition. The winning poem from the 2023 competition will be included in the Poems for Patience Poetry Collection and the winner will be invited to read their poem at this launch. Introduced by competition judge; Susan Millar Dumars. Sadly our writer in residence Kevin Higgins past away earlier this year and we will remember him on the day too when we include one of Kevin's poems in the collection.
Poems for Patience will take place subject to Covid-19 guidelines in University Hospital Galway. Tickets are limited to control numbers. Please do not attend if you have a fever or any Covid-19 symptoms. FFTP2/3 masks to be worn and will be available at the entrance to the event.
Please confirm with Saolta Arts on the day before that the event is going ahead.
About the organiser
Saolta Arts runs the West of Ireland's leading Arts and Health programme as a means of promoting wellbeing and improving the hospital experience for patients, staff and visitors. Its multi-disciplinary programme of events and activities includes exhibitions, music, theatre, poetry and public art to improve the physical environment for everyone. Supported by professional artists, its participative arts workshops allow people of all ages to explore their creative potential. For some, the creative process promotes autonomy otherwise limited by ill health, whilst their creative achievements help them to re-evaluate their abilities in the face of change. Participants find a more positive, productive use of their time in hospital, engaged in a way that distracts from worries and "makes time fly". Whether journeys of the imagination or a change of scene from the ward, a new way of working or a pastime rekindled, its activities spark conversations with new friends and fresh dialogue with old ones – making the clinical environment feel more human. Initiated in 2003 and working as Galway University Hospitals Arts Trust in Galway's public hospitals for ten years, the charity relaunched as Saolta Arts in 2019. Its expanded programme for Saolta University Health Care Group extends our services to Letterkenny University Hospital, Mayo University Hospital, Merlin Park University Hospital, Portiuncula University Hospital, Roscommon University Hospital, Sligo University Hospital and University Hospital Galway.