Join local artist Laura for a colourful, fun paint along. A full Painting Pack is included in the price of this event.
About this event
This year Taney Parish, Dundrum is celebrating the arrival of summer not with the usual garden fete, but with a 'Virtual SummerFest'. We invite everyone, young and old to join us in our nine great events! Click here to see the full list.
In this event we join with local artist Laura for a fun paint along for kids, with all materials and instruction provided to create your own pop art painting of 'the Crazy Frog' below!
The workshop is designed to be easy, enjoyable and at the end you'll have your very own big and bold abstract painting to display at home.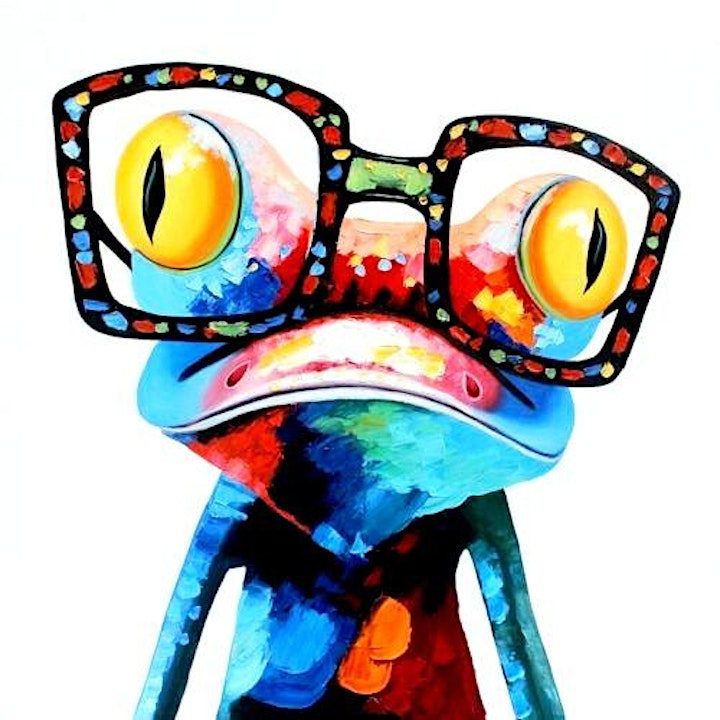 In the paint along you can create individual paintings using separate canvases or paint a group piece all together! Children aged 4-6 yrs old will need adult help but older children will be well able to join in independently.
What do I get in my full painting pack?
One Large Stretched Artists Canvas
One Acrylic Paint Pack
One Brush
Extra canvases and brushes can be purchased when booking your tickets.
Painting packs will be available for collection prior to the event.
How do I prepare?
On the day before the workshop starts, set yourselves up at a large table where you are comfortable to sit or stand while you paint. The canvas can be placed flat on the table for the workshop or you can prop it up against something so its tilted and upright if you prefer. Put on some music, or make some treats to enjoy as you paint!
You'll need:
A jar of water to wash your brush
Old plate or plastic tray to mix paint on
Old clean cloth to wipe brush/kitchen roll /baby wipes
Old clothes/waterproof table cloth
Please note Acrylic paints are water-based and washable but may stain some work surfaces and clothes so it's advised all wear aprons/old clothes and cover up any surfaces you wish to protect. Acrylic paints are not suitable for children under 3 years of age but younger children can join in with their own non-toxic toddler friendly paints. Frames for your painting can be purchased from Laura after the event if you wish.
Please note that as this is a public Zoom event all children should be supervised by an adult.
About Laura
Laura Steerman is the artist and owner of QuaintBaby Art - www.quaintbabyart.com - where she primarily creates bespoke baby ultrasound paintings for clients all over the world. Laura is a solicitor turned 'accidental artist' with a passion for painting and colour whose abstract artworks colourfully capture pregnancy and parenting journeys to tell a family's story. Her art been featured in the media on IrelandAM, the Irish Times, British Vogue, Her.ie, Business Insider and the Sunday Times. You can follow her creative journey on Instagram at https://www.instagram.com/quaintbaby_ultrasoundart/