Positive Intelligence & How to increase your Mental Fitness. Interactive workshop, teaching you tools to build your Mental Fitness
About this event
Positive Intelligence & How to increase your Mental Fitness!
This is an interactive workshop, teaching you tools to build your Mental Fitness!
Join me on Wednesday the 4th of August for an evening of knowledge and interaction:
•What Positive Intelligence is
•How to recognise your Saboteurs
•How to build your Sage wisdom & reconnect with your true self
•Interactive exercises that build mental fitness and reduce stress
Tickets €15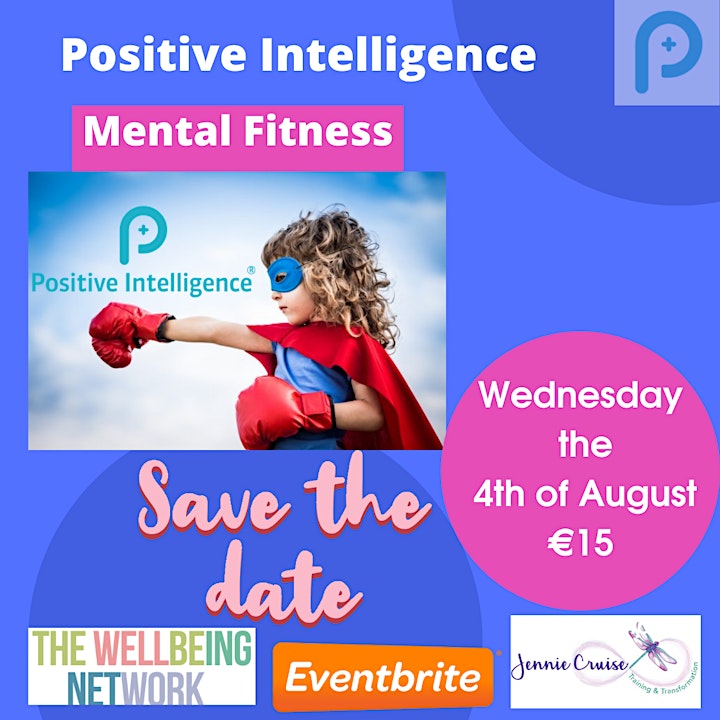 Organiser of Positive Intelligence: How to Increase your Mental Fitness
 Life & Business Coach, Mentor, Motivational Speaker, Trainer and Author
Jennie has worked with people in the area of personal & professional development for over 20 years. Having worked with groups and individuals for many years she recognised a need for further support and went on to train as a Life Coach and Mentor. Since qualifying, Jennie has worked with individuals, groups, and organisations providing coaching, mentoring and specialised training. Jennie has designed, delivered and certified Life Coach training and continues to work in a supervisory capacity with other coaches. 
Jennie's work as a motivational speaker allows me to address wider audiences with the material she have designed on 'Resilience & Wellbeing' and many other topics she is both passionate and experienced in. 
Jennie is at her absolute happiest when working with people, either on a one-to-one basis or group setting helping them to help themselves. She is a facilitator of change in people's lives.