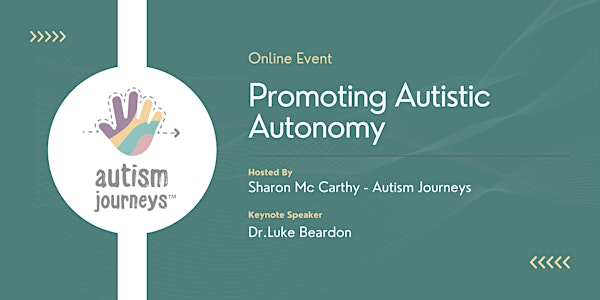 Promoting Autistic Autonomy - Online Conference
The event will offer strategies to autonomously support autistic children, teens and adults through environmental change and accommodation.
By Sharon McCarthy - Autism Journeys
Date and time
Sun, 26 Mar 2023 01:00 - 09:00 PDT
Refund Policy
Contact the organiser to request a refund.
About this event
The event will look at key features of the environment through a multi disciplinary lens and consider how we can support sensory safety and comfort, autistic communication, regulation and wellbeing.
Participants will
Gain an understanding of autistic experience
Understand their role as support to the autistic people in their lives.
Learn how to implement best practice and evidence based strategies ...
so we can ensure the persons perspective is put front and centre always.
Different from similar events because of its multidisciplinary perspective, active collaboration between autistic individuals and allies and environmental accommodation focus, this event is for parents and family members, educators, therapists such as occupational therapists, Speech and Language Therapists, psychologists, social workers, social care staff, early intervention specialists and anyone who is passionate about autistic wellbeing.
Ticket include
30 day access to recordings of presentations
pdf copies of presentations
information pack ... and more
EVENT SPEAKERS
KEYNOTE - Dr. Luke Beardon
Dr. Luke Beardon is a senior lecturer in The Autism Centre at Sheffield Hallam University where is is positioned as course leader for the Post Graduate Certificate in Autism and Asperger Syndrome, run in collaboration with the NAS. He is supervisor to several students at Doctoral level, many of whom are autistic and feels proud of the several autistic (ex) students who successfully completed their Doctorates under his supervision. He co-wrote the ASPECT consultancy report (2007), the largest UK consultation with autistic adults undertaken at the time. He has been part of a research team at Nottingham University running a three year project, and have several publications in National and International journals related to the project. His doctoral thesis, completed at Sheffield Hallam University is titled: Asperger Syndrome and Perceived Offending Conduct: A Qualitative Study. He is co-editor of five books on autism published by Jessica Kingsley, and is sole best selling author of three books; Autism and Asperger Syndrome in Adulthood (2017); Autism and Asperger Syndrome in Childhood (2019); and Avoiding Anxiety in Autistic Children (2020). He also has several other publications in journals and books. He has worked in a number of different capacities providing support and consultancy in the field of autism for more than 20 years and has received a number of different awards for both his achievements and the impact he has had within the field. These include the Inspirational Teacher Award, the Inspirational Research Supervisor Award, the Sheffield Hallam Vice-Chancellor Award, National Autistic Society Autism Professionals Awards for Achievement by an Individual Educational Professional and the Sparkle Sheffield Award for Lifetime Achievement in Autism. His blog was also voted second best in the award winning Aukids magazine in their list of ten top all time favourite autism blogs. Luke's research interests are around individuals with autism who have broken the law while his interests in general are anything related to autism, pretty much to the exclusion of everything else.
Sharon McCarthy -
Is a professional who has worked in the autism field in a number of capacities for over twenty years. She lectures in University College Dublin, coordinates and delivers autism centric courses in her local community college and delivers autism specific training workshops to different disability and training services across the country. She has spoken at a number of different events nationally and internationally and is founding director of Autism Journeys Training and Consultancy service where she supports autistic children and young people and their families from both an advocacy and educational standpoint. Sharon holds a number of disability and autism specific qualifications to post graduate level. She is an author and presenter of Autism Journeys Radio Show and Podcasts. Most importantly, Sharon is parent to multiply identified neurodivergent children for more than 25 years and recently, as a female (in her mid forties!) she was identified as both autistic and an ADHDer and is finally empowered to be her authentic neurodivergent self.
Dr Micaela Connolly -
Is a senior educational and child psychologist with over 20 years' experience of working in disability services, providing psychological support to children and adults. 15 of those years have been working on a multidisciplinary team in a specialist autism service. Her work involves assessment, therapy, training, and the development and implementation of materials and programmes to advance understanding and awareness of autism and ways to support the autistic individual. Micaela is a guest lecturer in University College Dublin and an occasional lecturer in University College Cork. She is adjunct module author and lecturer on the National Training Programme for Special Educational Needs Assistants with University College Dublin in collaboration with National Council for Special Education. Micaela has published research on supporting parents and families of autistic children. She is passionate about working in a person-centred, rights-based and strengths-focused way.
Caolán McCarthy -
Is an autistic Speech and Language Therapist who graduated with his bachelor's degree in 2020. He has since begun working as a basic grade Speech and Language Therapist in a private clinic in Dublin. Over his time in university and beyond, Caolán has been involved in a wide array of programs and initiatives. He briefly worked under Alex Kelly (author of the Talkabout Program), spoke at the IASLT Autism and Neurodiversity Special Interest Group (SIG) annual conference in 2020 on his experiences as an autistic student of Speech and Language Therapy, and more recently made contributions to the new national training programme for special educational needs assistants with University College Dublin in collaboration with National Council for Special Education Caolán uses his unique position as a clinical therapist with first and second-hand experience of living with autism in order to provide insight into a variety of different environments and topics and ensure that the autistic voice is kept central to any discussion he is part of.
Mairéad Twohig -
Is a senior occupational therapist with over 10 years experience of working with children and their families. Mairéad works to support autistic children and young people with participation in daily activities that are important and meaningful to them. Core to this work is promoting understanding and awareness of sensory differences and needs among others. She is passionate about keeping the child's 'voice' central to her sessions and practice and strives to ensure the child is supported autonomously always.
Michelle Lynch -
Is a development worker with Cork City Childcare, providing support, expertise and information to Early Childhood Education and Care (ECEC) providers, practitioners, parents, groups, and students. Michelle's qualifications include an Honours Degree in Management and Leadership for the Early Years sector, a bachelor's degree in Early Childhood Studies and a qualification in High Scope Curriculum Implementation Training. She teaches various QQI Level 5 and level 6 Early Childhood Education and Care and Special Needs Assisting modules by night with the Cork College of Commerce and has 19 years of Early Years' experience. She is an international speaker and has a broad range of practical and applicable Autism related knowledge as a mother of five and relevant to supporting and nurturing a neurodiverse household.
Orla Heaney -
Is working and a regional manager with Gheel Adult Autism service in Dublin. She has a background in nursing and worked for many years as a clinical nurse specialist in Autism in Temple Street Childrens Hospital. She has been working in the area of autism for more than 17 years. She has a masters degree in Autism education. Her role in CHI at Temple Street involved working as part of the mental health MDT service offering therapeutic input for autistic children and young people and their families. Most recently in her work with Gheel she is leading out on their Positive Ageing in Place strategy. She has a strong focus on seeking the autistic voice and promotion of autonomy, which is informed and guided by a neurodiversity affirmative model.
Stephen Carr -
Stephen has completed a Diploma in Supported Employment and his BA (hons) in Social Care with the Open Training College. He has also completed an MSc in Risk Management and Systems Change with TCD. Stephen previously worked as a Social Care Worker with The Irish Society for Autism and with Community Services for Autistic Adults and Children in Washington DC. For the past 26 years Stephen has had the opportunity to work across different models of support within Gheel Autism Services both in direct supports and now as Regional Manager for the Community Supports across North Dublin. A committed practitioner Stephen is a strong advocate aiming to promote and improve Autism awareness in Ireland.