Let's Talk Menopause with Dr. Madeleine McCarthy
About this event
Hot and Steamy or Sticky and Sweaty? All symptoms, side effects, queries and quirks are welcome! Our Wednesday night event explores all things menopause with Dr. Madeleine McCarthy. This workshop will take on a relaxed, café style approach to the night. Participants will be invited to get involved in break-out room discussions to share, hear and explore the many different experiences of menopause in the community.
Q-Con - Queer women's sexual health and wellbeing conference
Monday 13th – Friday 17th September
Come one, come all: lesbians, bi, queer and trans women, non-binary fem-of-centre folk, this sexual health and well-being week is for you!
Like a long-awaited lover's touch, we've all been craving a space to talk about us – the strange, the wonderful, the delectable and the difficult! LINC, BeLoNGTo, LGBT Ireland and Dublin Lesbian Line have created a week-long online festival with a fabulous line up for community discussion and exploration on many sex and sexual-health related topics and areas of interest. From pleasure to menopause and diversity to difficulty, check out the incredible programme of nightly workshops all accessible from the comfort of your own home.
Notes:
We will aim to make these events as inclusive as possible, if you have any access requirements please get in touch with us at info@linc.ie and we will make every effort to accommodate you.
These events exist as a safe space for our community including lesbian and bisexual women, trans women and non-binary people who identify with this community. The topics discussed may be sensitive in nature and it is the foremost priority to ensure the safety and well-being of our community, therefore the organising group reserve the right to remove any individual who threatens the sense of safety we aim to achieve.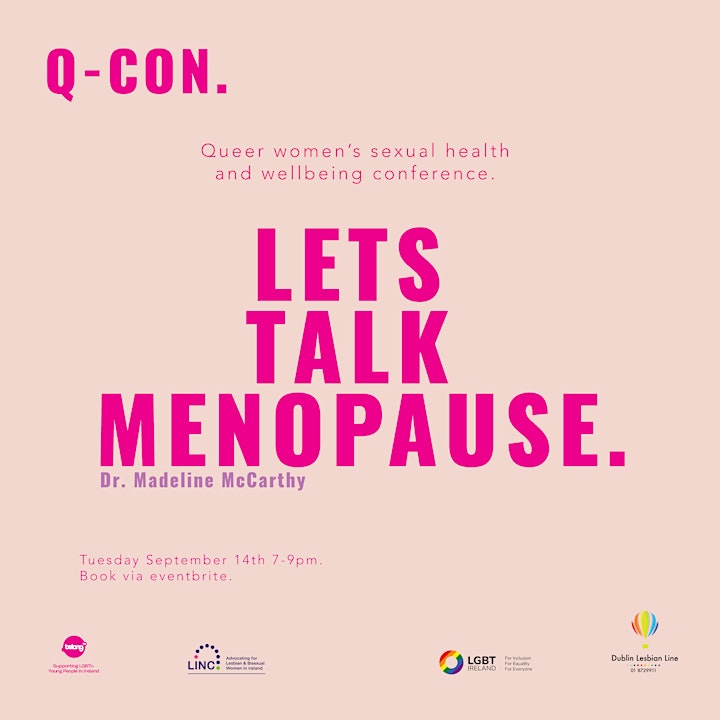 Organiser of Q-Con: Let's Talk Menopause
LINC is an NGO working exclusively with Lesbian and Bisexual women in the Republic of Ireland.
To sign up for the LINC weekly newsletter click here: LINC Newsletter