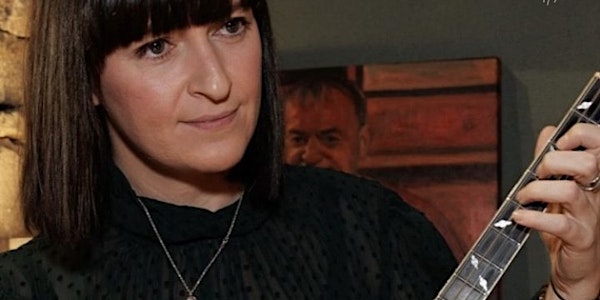 Rang Bainseo/Banjo Class le Clíodhna Costello
Beidh ranganna ar an mBainseó le Clíodhna Costello ag Scoil Cheoil Earraigh i mBaile an Fheirtéaraigh ón 16ú-18ú Feabhra 2023.
By Scoil Cheoil An Earraigh
Date and time
Thu, 16 Feb 2023 10:00 - Sat, 18 Feb 2023 13:00 GMT
Location
Ballyferriter Village Baile an Fheirtéaraigh Ballyferriter Village Ireland
Refund Policy
Contact the organiser to request a refund.
About this event
Beidh ranganna ar an mBainseó le Clíodhna Costello ag Scoil Cheoil Earraigh i mBaile an Fheirtéaraigh ón 16ú-18ú Feabhra 2023.
Is as tuaisceart Thiobraid Árann do Chlíodhna Costello, ceantair ina bhfuil saibhreas ceoil traidisiúnta. Bhí ceol á chlos aici agus í óg óna clann agus ó cheoltóirí áitiúla. Tá tionchar mór ag stíl ceoil Oirthear na Gaillimhe ar cheol Chlíodhna. Tá cliú ar an stíl rithimiúil atá aici agus mórán gradaim tugtha léi aici dá bharr. Tá sí feicthe ar an teilifís agus cloiste ar an raidió anseo in Éirinn agus tá fud fad na cruinne taistealaithe aici ag seinnt is ag múineadh ceoil. Tá Clíodhna ag cur fuithi sa Ghaillimh anois, áit a sheinneann sí agus a mhúineann sí go rialta.
Beidh gach rang ar siúl i ó 10.00rn go 1:00in gach lá le sos san áireamh.
Mar eolas:
Caithfidh daltaí a gcuid uirlisí fhéin a bheith acu.
Tá fáilte roimis dhaoine fásta & leanaí os cionn 9 mbliana.
Beidh béim ar mhúineadh trí Ghaelainn sna ranganna.
Cuirfear béim ar amhráin, ar stíl is ar phoirt Chorca Dhuibhne.
Iarraimid nach bhfreastalódh éinne le siomptóim Covid19 ar an rang.
N.B. Níl aon ranganna uirlise ann do ghlan tosnaitheoirí
Scoil Cheoil an Earraigh will host Banjo classes with Clíodhna Costello from 16th - 18th of February 2023.
Clíodhna Costello hails from North Tipperary, an area rich in traditional music. She was exposed to music at a young age, both at home among her siblings, and with local musicians. Clíodhna's style has been heavily influenced by the music of East Galway. Her rhythmic style is widely admired, and she has won numerous awards for her playing. She has appeared on television and radio shows at home in Ireland and has travelled across the world, performing and teaching. Cliodhna currently lives in Galway, where she plays and teaches regularly.
Each class will start at 10am until 1:00 pm each day with a break included.
‍Please note:
Pupils must have their own instruments.
Classes are for adults and children age 9+.
Most classes will be taught 'as Gaeilge' (through Irish) while all efforts will be made to make sure that no one feels excluded.
The emphasis will be on West Kerry tunes and style.
Please do not attend class if you have symptoms of Covid19
NB There are no classes for absolute beginners.

About the organiser
Féile ceoil thraidisiúnta i mBaile an Fheirtéaraigh, i gCorca Dhuibhne, Co. Chiarraí, Éire i mí Feabhra gach blian ina mbíonn ceardlanna ceoil agus amhránaiochta, ceolchoirmeacha, léacht, seisiúin, siúlóid, ciorcal comhrá, agus go leor eile.