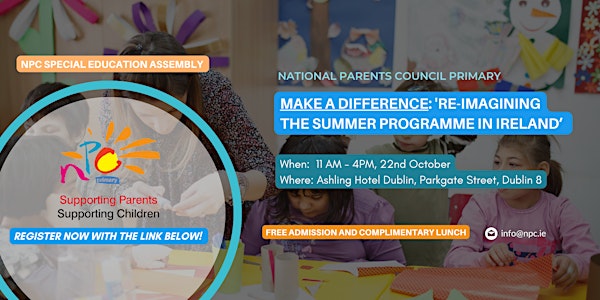 Reimagining the Summer Programme: NPC Special Education Needs Assembly
National Parents Council Primary would like to invite you to "Make a Difference" - Reimagining the Summer Programme in Ireland
When and where
Location
Ashling Hotel Dublin 10 - 13 Parkgate Street D08 P38N Stoneybatter Ireland
About this event
While the leaves are changing colour signifying the end of summer, we at National Parents Council Primary (NPC) are starting to think about next year's Summer Programme. While there exists a Summer School programme in Ireland, parents have continuously told us about the challenges their children have in accessing it. NPC believes that the time is right to have a discussion with parents about the type of Summer Programme they would like for their children in the future.
To start this conversation, we are hosting this consultation event: 'Make a Difference : Re-imagining the Summer Programme in Ireland', an NPC Special Education Assembly on the 22nd of October to hear what you as parents have to say.
There will be speakers from the Government of Malta to discuss their model for a Summer School Programme (Skolasajf), the Department of Education (Ireland), and the National Council for Special Education( NCSE) present for this consultation event.
The event is completely free, and a complimentary lunch is included so that you get precious time to meet and talk with other parents. Please find more details regarding the same below.
When : 22nd October, 11 AM – 4 PM (sign in on the day from 10.30am with tea/coffee)
Where : Ashling Hotel Dublin, Parkgate Street, Dublin 8
Please note that limited spots are available, and you can attend the event only with a valid registration.
We at National Parents Council Primary are delighted to be hosting this event and please know that your voice truly matters and can have an impact on the future of the Summer School Programme in Ireland. We hope to see you all there!
We are also looking for parents' views on the Summer Programme via a survey and will share these findings at the event on Saturday the 22nd. Here is a link to the survey https://www.surveymonkey.com/r/NPC_Summer_Programme_Survey_Oct