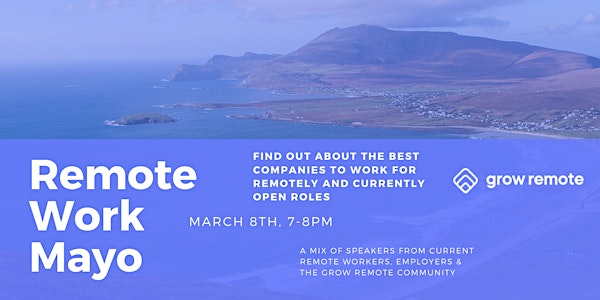 Remote Work Mayo
Looking for a remote role? Join us to hear about currently open positions & for tips & tricks from those already doing it.
About this event
Grow Remote Belmullet, Grow Remote Achill, Grow Remote Louisburgh, Grow Remote Castlebar and Grow Remote Ballina in partnership with Údarás na Gaeltachta agus Gréasán Digiteach na Gaeltachta would like to present this showcase event, helping to make remote work local.
Hear from employers based across Mayo who hire remotely as they tell us about currently open roles. And from those working remotely on how they landed their jobs and the experience of working remotely while living in Mayo.
And learn more about Grow Remote and the community of chapters across the country and county. Learn how the chapters can support you in finding remote work, learning where to access supports and training and how you are supported by the chapter once you land the job. From having a social network who understand remote working, to making direct contacts with people in the companies you want to apply to.
There is so much potential now for us to live and work locally, take this opportunity to learn about what is out there and plan your next steps.
That might be taking part in the fully-funded 8 week, online course in remote working skills, Remote Work Ready (https://growremote.ie/remote-work-ready/) or taking part in one of the month Grow Remote Jobs Club events and the free mini-course in finding and applying for remote work ( https://growremote.ie/grow-remote-jobs-club/ ) and remember to check out the jobs board, a curated list of remote roles suitable for candidates based in Ireland (https://growremote.ie/irish-remote-jobs-board/).
Cianobair Mhaigh Eo
Foghlaim faoi na comhlachtaí is fearr maidir le cianobair a thairiscint d'oibrithe
Rogha de chainteoirí ó chianoibrithe na haimsire, ó fhostóirí agus ón bpobal cianoibre I gcoitinne
Ar lorg ról cianoibre? Bí linn chun foghlaim faoi jabanna atá ar fáil faoi láthair & freisin chun treoir agus leideanna cuidiúla a fháil uatha siúd atá i mbun an saghas seo oibre cheana féin
Gréasán Digiteach na Gaeltachta
gteic Gréasán Digiteach na Gaeltachta is a network of 30 innovation & digital hubs to be developed by Údarás na Gaeltachta in locations throughout Ireland's Gaeltacht. The innovation hubs are to be dotted along the majestic Wild Atlantic Way in Donegal, Mayo, Galway, Kerry and Cork in addition to Waterford and Meath in Ireland's Ancient East. Six Gaeltacht islands and seven non-Gaeltacht islands also form part of this growing digital ecosystem to support the sustainability of these off-shore island communities.
Our hubs include hot desk and shared space facilities for remote workers and eworkers in addition to fully equipped office spaces and incubation units with high speed internet access to facilitate innovation and concept development.
Údarás na Gaeltachta
The overall objective of Údarás na Gaeltachta is to ensure that Irish remains the main communal language of the Gaeltacht and is passed on to future generations.
The Údarás endeavours to achieve that objective by funding and fostering a wide range of enterprise development and job creation initiatives and by supporting strategic language, cultural and community-based activities.
Supported by the Western Development Commission and Mayo.ie
Grow Remote
Grow Remote is an award winning Irish social enterprise with the mission of making remote work local. We want to do this to support people being able to live and work locally. A large part of our mission is supported by our chapters, groups of wonderful local volunteers who help to make remote work visible and accessible through events like this.