Rooted Hearts & Winged Minds Memoir Writing Course with Cauvery Madhavan
Rooted Hearts & Winged Minds Memoir Writing Course with Cauvery Madhavan
About this event
This writing course will be delivered over 6 consecutive Tuesday evenings from 7-9pm on August 31st, September 7th, 14th, 21st, 28th and October 5th. Attendance at all 6 sessions is required.
Now, more than ever, understanding your heritage, your roots, and your ancestry is an important part of carving out your future writing. This course will help you embrace where you came from so you can make sense of future directions, in your creative life as well as in everyday life.
Course Summary:
Regardless of where you come from, life is rich with stories to be mined. Drawing on the culture, social history, traditions and memory of your roots, on this course you will weave a tapestry of work which can be applied to every writing style and format, including prose, poetry, memoir and creative non-fiction.
This course is for beginner writers who want to explore their roots to mine stories.
Course Outline:
Participants will focus on their own individual or family life journeys. Each week you will look at how grounding yourself in your roots - whether it be memories of family, food, a remembered landscape or even matters of birth and death - helps you to grow as a writer and perhaps be a happier soul.
Participants will be expected to produce a very short piece of work in class and then a longer piece of 'homework' each week. Feedback will be provided.
Cauvery Madhaven
Cauvery Madhavan was born in India and moved to Ireland thirty-three years ago. She is the author of three books of fiction – Paddy Indian, The Uncoupling and The Tainted which was picked as one of An Post's Top Summer Reads 2020. It was also awarded the runner-up prize in SAHR Prize for Military Fiction and listed by The Times, UK, in their list of top 40 Historical Fiction novels. Cauvery has written for the Irish Times, Irish Independent, Evening Herald, the Sunday Tribune, The Phoenix and Travel Extra. She lives with her husband and three children in County Kildare and is working on her fourth novel.
KCC Library Event Privacy Statement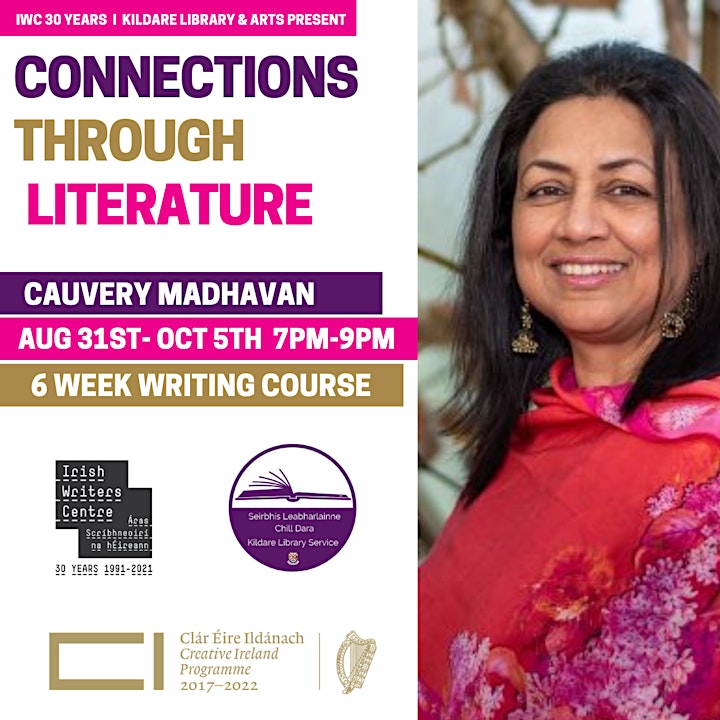 Organiser of Rooted Hearts & Winged Minds Memoir Writing Course with Cauvery Madhavan