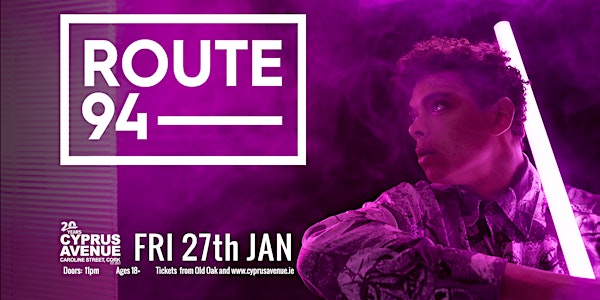 When and where
Location
Cyprus Avenue Caroline Street Cork Ireland
About this event
Route 94, real name Rowan Jones, represents the very best of British, London's beat flows through his veins. The city's rich musical history informs all of his work, giving him his unique fingerprint. Cultivating his sound for years, Rowan first got to grips with music production when he was 13 years of age. In the 12 years that have passed since, the Londoner has performed all over the world from Mexico to Miami, Amsterdam to Dubai, Sydney, Ibiza to name but a few.
Route 94's sound is distinct, and evident in his diverse range of productions, moving from deep, emotive cuts to more dance floor-orientated material with ease. A whirlwind few years have seen him go from hitting the No.1 spot in numerous countries around the world's charts with "My Love", to performing at the most-respected clubs on the planet, but he's unaffected by the attention, keeping his head down in the studio and injecting his energy into a series of projects that allow him to maintain his creative flow with panache.
Since "My Love" he has had a string of releases on world renowned labels like Defected, Crosstown Rebels and set alight Hot Creations with the enormous 'House & Pressure' EP where Route 94 spent a number of weeks at the top of the worldwide Beatport chart with one of the underground anthems of the year.
All of these releases combined showcase Rowan's ability to work across a range of styles while maintaining his identity. At the heart of his productions lies a bass-heavy groove, which is quintessentially London – there's no mistaking that sound. His use of vocals also evokes a truly London-centric feeling, though, like so many Londoners that have come before him, Route 94's sound resonates with music lovers all over the world and his forthcoming releases are set to ignite dance floors around the world and boost his already huge following.
Naturally-gifted, musically astute and a total studio hound, Route 94 has already assured himself a place in the history books, where he goes from here is all in his own hands…