Event Information
Location
The Salmon Bookshop & Literary Centre
9 Parliament Street
Ennistimon
Ireland
'Sacred Bronze Age Caves of the Burren' - Dr. Marion Dowd + Elaine Hogan
About this event
Idir Dhá Thrá is an explorative series of music/talks/performances/lectures which responds to the cultural, social and geographical area of North Clare. The events shall take place in the unique setting of the al fresco (outdoors) courtyard garden behind the Salmon Bookshop in Ennistymon. The series will bring together an interesting and collaborative collection of artists, storytellers, lecturers, musicians and poets who will each share from their field of expertise and experience on topics which will resonate with the local communities in North Clare. These series of events are supported by The Department of Tourism, Culture, Arts, Gaeltacht, Sport and Media and the Clare Arts.
We are delighted to welcome Dr. Marion Dowd to the garden of the Salmon Bookshop and Literary Centre this September to speak on her findings about the sacred Bronze Age cave-scapes of the Burren in Co. Clare. Marion Dowd is a Lecturer in Prehistoric Archaeology at the School of Science, I.T. Sligo since 2005. Prior to this she was a part-time lecturer in the Department of Archaeology at UCC, and she worked for several years with Eachtra Archaeological Projects in Kerry and Cork.
Marion's research focuses on the multiple ways in which caves were adapted, utilised and perceived over the entire duration of human occupation of Ireland, from the Early Mesolithic through to the present day. She is interested in how these dark silent underground landscapes affected people, and the types of activities they attracted. While concerned primarily with the archaeological evidence, she believes in a multi-disciplinary approach and draws on folklore, history, early literary sources and ethnography to provide a more holistic and nuanced understanding of caves.
She has over 20 years excavation experience on sites from all archaeological periods, and has been a licensed archaeologist since 2001. She has directed excavations in Glencurran Cave and Moneen Cave, both in the Burren, Co. Clare, sites with Bronze Age ritual activities as well as medieval horizons. "Archaeological excavations in Moneen Cave, the Burren, Co. Clare: insights into Bronze Age and post-medieval life in the west of Ireland" (Archaeopress, 2016) is her first excavation monograph, and she has published numerous excavations as journal papers.
Joining Marion on the day will be reknowned harpist and musician Elaine Hogan. Based in Ennis, Co. Clare, Elaine has been playing and studying music all of her life and has gained qualifications in piano, flute and violin as well as a Masters Degree in performance on the Irish harp. She is deeply rooted in the music of her home-place and performs and creates music on a regular basis in both a solo capacity and as part of various ensembles. Elaine will be presenting a solo harp performance on the day in the surrounds of the Salmon Bookshop garden.
All Idir Dhá Thrá events will be held outdoors and everyone in attendance is reminded to abide by the Covid restrictions currently in place.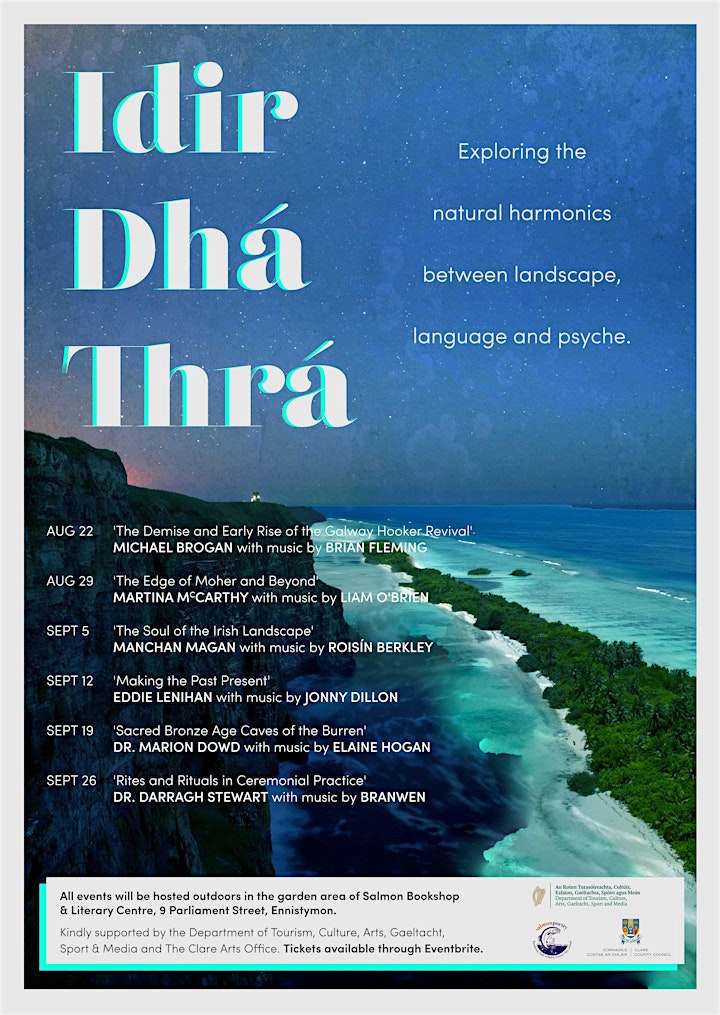 Date and time
Location
The Salmon Bookshop & Literary Centre
9 Parliament Street
Ennistimon
Ireland