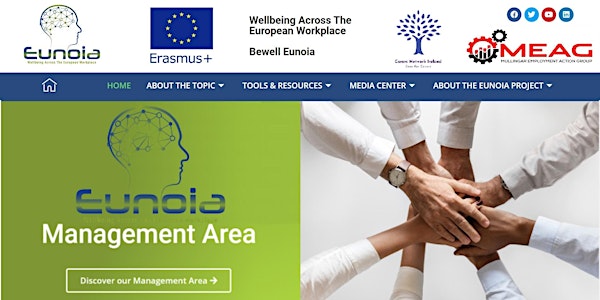 Safeguarding Employee Mental Health
Official launch of the Bewell Eunoia platform designed to help Business meet their obligations to safeguard employee Mental Health.
When and where
Location
The SCCUL Enterprise Centre, Ballybane Castlepark Road Ballybane Ireland
About this event
The Eunoia Project results are designed to enable SME's all over Europe to implement important mental health initiatives, and incorporate them into how they do business.
www.bewell-eunoia.eu provides (FREE) the tools and resources needed to manage mental health in the workplace, making it an integral part of the workplace Health & Safety.
By mental health we do not mean mental illness. We mean the mental health we all have, just as we all have physical health. The World Health Organisation defines good mental health as
'A STATE OF WELLBEING IN WHICH EVERY INDIVIDUAL REALISES HIS OR HER OWN POTENTIAL, CAN COPE WITH THE NORMAL STRESSES OF LIFE, CAN WORK PRODUCTIVELY AND FRUITFULLY AND IS ABLE TO MAKE A CONTRIBUTION TO HER OR HIS COMMUNITY'
Poor mental health has substantial personal and economic impacts across the European Union, and associated stigma or discrimination can exacerbate these impacts. Up to 50% of chronic sick leaves are due to depression/anxiety. About 50% of major depressions are untreated. Mood disorders and anxiety cost the EU €170 billion per year.
SPEAKERS;
Ronah Corcoran-O'Reilly: Business Owner/Founder @ Carers Network Ireland
Lochlann Scott: Founder/CEO @ Helplink Mental Health
Michael Ward: Manager @ MEAG / Project Lead on Bewell-Eunoia Project