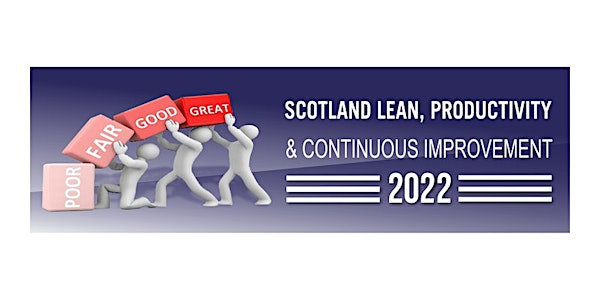 Scotland Lean, Productivity & Continuous Improvement
Scotland Lean, Productivity & Continuous Improvement 2022
When and where
Location
Scottish Event Campus, Glasgow Exhibition Way Glasgow G3 8YW, United Kingdom Glasgow G3 8YW United Kingdom
About this event
Lean management systems and continuous improvement programs focused on adding value for the customer whilst simultaneously reducing waste are being increasingly adopted by manufacturers and other types of businesses. Benefits include enhanced productivity, improved efficiency and streamlined processes, resulting in increased competitiveness.
Once the preserve of large manufacturing businesses, a lean and continuous improvement approach is now being taken by businesses of all sizes and across different sectors, including healthcare.
Indeed, the revolution in digital technology is helping to drive interest in lean and continuous improvement systems in a bid to 'work smarter', and those companies that fail to act may soon be at a serious competitive disadvantage.
However, while the implementation of lean and continuous improvement philosophies and practices can transform an organisation and energise its workforce, for the improvement to be continuous it requires a shift in management culture.
The Scotland Lean, Productivity & Continuous Improvement event, which is co-located at the Scotland Manufacturing & Supply Chain Conference & Exhibition, being held at the Scotland Event Campus on the 13th October 2022, will provide visitors with an insight into implementing a successful lean and continuous improvement program, tailored to their specific needs, in order to drive business development and efficiencies.
A comprehensive conference program is being arranged featuring speakers from leading Scottish, UK and multinational companies that are exemplary leaders in this field, who will offer practical advice and expertise. The event will also incorporate an exhibition of the latest solutions available to businesses.