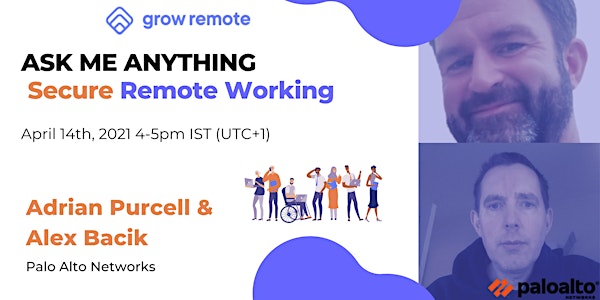 Secure remote working AMA
We have faced so many challenges over this past year regarding remote working including cybersecurity. Learn from the best at this AMA .
About this event
As how and where we work has so radically changed within this past year, we see an increase in the importance of having cybersecurity top of mind.
Grow Remote would like to invite you to this session on secure remote working; looking at people, processes and technology from two cybersecurity specialists.
These AMA sessions (Ask Me Anything) allow you, the audience, to ask the questions which are top of mind for you. So many of us are navigating new territory with remote working and the forced nature of the type of remote working so many are facing during the pandemic. Use this session to educate yourself on what you and your organisation can do to limit your risks.
We will email the session link to attendees two hours before the event, please keep an eye on your email for this.
These sessions are recorded to use on the Grow Remote YouTube channel to make this knowledge accessible for others.
About our speakers:
Adrian Purcell:
20 year technology veteran spending the first half of this as an engineer in the semiconductor industry in Ireland and the US. The last 10 years have been spent in Cyber Security business development and solution sales with a mission to protect the people and organisations of Ireland from successful cyber attacks.
Alex Bacik:
I started out in technical roles, building Internet Service Providers. I specialised in Cybersecurity in 2002; Product Management and finally Sales Engineering, working in Ireland, the UK, Eastern Europe and the US. I've been working with Adrian since 2019.
About Grow Remote:
Grow Remote is an award winning social enterprise based in Ireland. We make remote work local by supporting individuals, communities in companies in a number of ways. One aspect of our work is building community around remote workers through our chapters that give people a support network while remote working, a place to learn more about remote work and to grow their careers. Find out more about your local remote working community here: https://www.changex.org/ie/growremote
And in our training courses we help people new to gain skills, in demand in industry, to land a great remote job through our Remote Work Ready course (fully funded for eligible individuals) and we support and upskill remote leaders through our Leading Remote Teams course developed in partnership with IDA, Solas and Laois-Offaly ETB.
Find more information at: GrowRemote.ie