Description
Organised by the Shannon Group Charity Committee, in conjunction with Shannon Chamber of Commerce. Proceeds from participants entry fees will go to the Shannon Group Partner Charities; Irish Cancer Society and Limerick Suicide Watch.
The event is open to everyone working in Shannon and all fitness levels. We want to encourage everyone to come out and walk, jog, run or skip with us, while helping reach our goal of €10,000!
Spot prizes will be provided on the day by Shannon Airport, Shannon Heritage and Shannon Duty Free including GRAND PRIZES going to the fastest female, fastest male and fastest team of 5!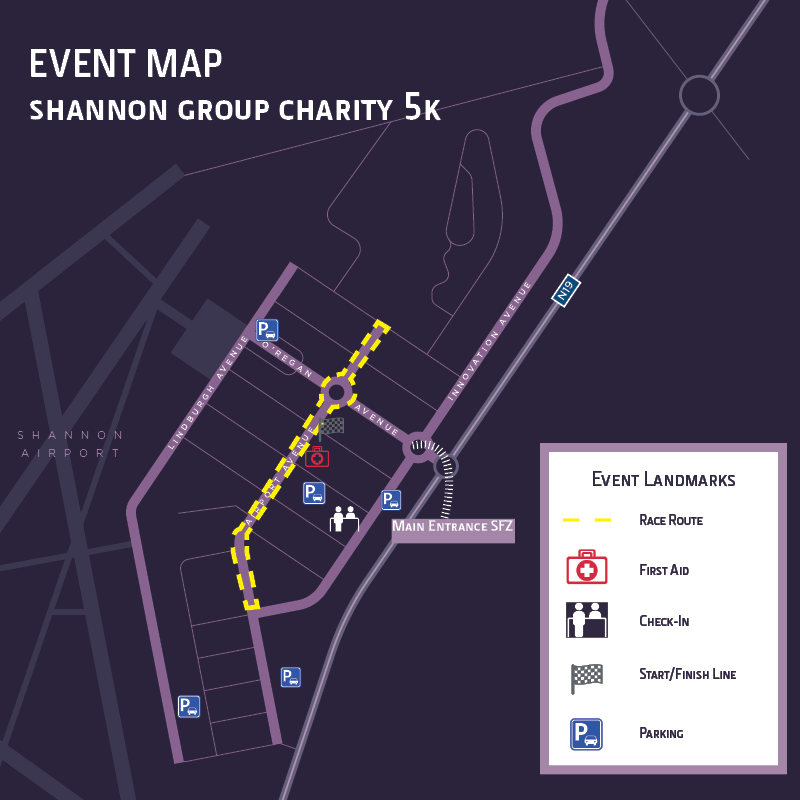 FAQs
We are looking forward to you joining us for the Shannon Group Charity 5K on Thursday night. Please find below some information in relation to the event.
When
Thursday 5 September 2019
Registration: 17:30-18:45
Music: 18:15
Warm Up and Briefing: 18:45
5K start: 19:00
Prize Giving: 20:15
Getting There
The Shannon Group Charity 5K is taking place in Shannon Free Zone, County Clare. Enter via the main entrance on the N19 and turn left at the first roundabout. The Registration Office is located at Block T, which is the second right (Eircode V14 YR29). It will be sign posted on the day and there will be volunteers to direct you.
Bus Eireann will not be serving the industrial estate for the duration of the event.
Parking
There will be limited parking in the vicinity of the event but suggested areas for parking are indicated on the event map. If you work in the estate, please use your usual parking where possible.
Registration
Registration will be 17:30 to 18:45 at Unit 59, Block T, Shannon Free Zone, Eircode V14 YR29. Give your name to the volunteers at the registration desk and you will be given your race number, goodie bag and t-shirt.
Only the person who registered may take part, using someone else's number is not permitted.
Registration on the day will not be possible.
Timing
Your 5K number includes a chip, which will record your time. Your time will be made available to you after the race and a link will be posted on the Facebook Event Page.
Showers\Changing Facilities
There will be no shower or changing facilities available on the day.
Bag Drop
There will be limited bag drop at available at registration. Labels are available to mark your bag with you race number. Items are left at owner's risk.
Start/Finish Line
The start finish line is located at Block S behind Café Solo, close to the Registration Office. Volunteers will direct you to the area after you are registered. There will be signs for runners, joggers and walkers. On your third lap, you will turn left into the finishers' area.
Warm-up/Briefing
There will be a Warm Up and briefing session with The Met Trainer before the event.
Route
The route is 3 1.67KM laps of Airport Avenue, the main road in Shannon Free Zone. Starting at Block S, it will return at the junction near Block F, returning again at the junction before Block O/P. There is a map below and the route will be closed and marked along its length.
During the event
Keep left to allow others to pass whenever possible. Refrain from listing to headphones. Dogs or buggies are not permitted on the route during the event. Roads will be closed for the duration of the event but participants should always remain alert.
While the route is flat, participants should be aware there are some speed ramps.
Weather
Forecasts are presently good for running with overcast skys, gentle to moderate breeze and low chance of rain. This may change so keep an eye on forecasts.
First Aid
An ambulance will be located at the start finish line and first aiders located along the route. Please inform the nearest event volunteer should you feel unwell or get injured.
Please save the emergency contact number should you require any assistance during the event.
Emergency Contact Number 086 602 8990
Water
Water will be available on the route, close to the start line.
Toilets
A small number of portable toilets will be available at the start finish line.
Prize Giving
There will be prizes for the fastest male, female and team. These will be awarded shortly after the 5K has ended.
Queries
Contact any volunteer on the night or: shane.ryan@shannonproperties.ie | 086 602 8990
Charity Partners
Your entry fees are going to support two great causes:
Local: Limerick Suicide Watch
We will have a number of volunteers from Limerick Suicide Watch assisting with the event on the night. The group's main focus is to keep eyes on the River Shannon in Limerick and identify and provide support to those in distress and who may be contemplating suicide. They also visit schools, colleges and places of work to promote mental health awareness and encourage conversation around mental health and suicide.
National: Irish Cancer Society
By 2020, 1 in 2 of us will receive a cancer diagnosis in our lifetime. The Irish Cancer Society is working to stop this. By investing in cancer research and providing care and support to people affected by cancer, the Irish Cancer Society is stopping cancer in its tracks.
Sponsors
We would like to thank a number of local businesses and organisations, without their support and assistance this event would not be possible:
Ei Electronics, IQEQ, Zagg, HIYA Events, Timing Solutions, Lidl, ABC Nutrition, The Met Trainer, SKB Gym, An Garda Siochana, Bus Eireann, Clare Civil Defence, Clare County Council.
There will be light refreshments and music to set the atmosphere around the starting line so for anyone who is not participating in the 5K, we encourage you to still come out and join us to support two great Irish chairities!